Creative Imagination Schoolhouse
In the past year, since we received our Nature Explore certification, it has ignited a love in all of us to be more purposeful with our play and daily interactions.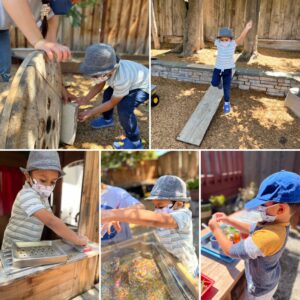 Every year, we clean out our garden during the summer and replant new sets of plants, flowers, herbs, and veggies. Our young learners enjoy this part as an end-of-year clean-out effort. The families brought new plants for our garden as well and helped with our mini gardening projects. It has been a
wonderful blessing to us all, especially the children.
On top of that, we redid our outdoor storage with new shelving and purchased an outdoor vacuum to help us with our play yard cleaning during Fall & Spring time. It has been a lifesaver and the children love helping us sweep all the leaves – it's truly a community collaboration and effort to keep the learning space aesthetically pleasing and engaging for everyone. We're also getting a new fence this summer!