Creative Nature Playschool
Creative Nature Playschool referred to as CNP, is a year-round completely outdoor, nature-based recreational preschool. At Creative Nature Playschool program open to potty-trained children ages 3-6. We are a family-owned and operated program where we look beyond the ABC's and 123's by instilling a lifelong love for play, learning and our natural environment.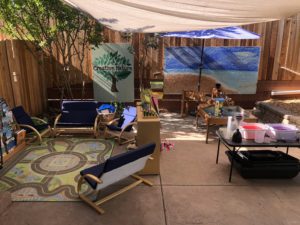 Unlike other programs that include hours in front of the tv and little to no time outside, CNP strives for the opposite as an ALL OUTDOOR program! As Sacramento's original nature-based program, CNP encourages children to explore their natural surroundings with all their senses and we don't mind getting DIRTY; after all, children have their whole lives to sit behind a desk.
CNP has over 15 certifications and has won Best Child Care Services in Orangevale four times in a row. We serve only organic and non-gmo meals, use zero pesticides, only do organic gardening, have five different types of animals our Playschoolers interact with, have 20+ outdoor centers, and more! Please see our website for more details at https://www.creativenatureplayschool.com