The Nature Explore Classroom at
Creative Roots Early Learning Center
Creative Roots Early Learning Center is a family child care located in Dillsburg, PA.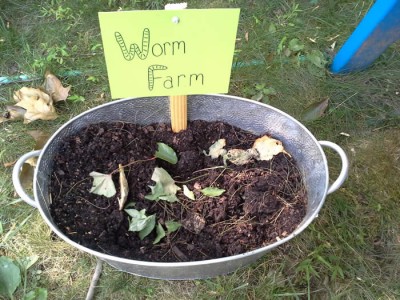 We are an award winning STAR 4 accredited facility that focuses on early childhood education. With a love of learning, nature and conservation we are pursuing an example of sustainability by immersing the children in an engaging academic program that nurtures each individual to be the best they can be.
We have created our outdoor classroom to engage all early learners from infants up. In addition we have established all the elements of an indoor STAR 4 accredited classroom except for toileting and napping. We want to use the outdoor classroom as much of our day as possible.
Creative Roots outdoor classroom offers our children a special place to learn and connect with nature. Designed to give every child a place to be involved and safely explore elements of nature while learning social skills and reaching academic achievements. Our outdoor classroom includes goats, chickens, and rabbits that allow children to learn about life cycle, farming, and sustainability. Insects and plants, both native and garden varieties, capture their love and interest in nature. We also have many other natural materials such as sea shells, botanical items, sanded sticks of various sizes, tree cookies, borders and natural stones. Our outdoor classroom has activities for music, reading, mathematics, science, kinesthetic and many other areas of learning and development.
Creative Roots has earned many awards including Outstanding Early Childhood Provider-5 times, Voted Best in Child Care for the past 5 years, Anderson's All-Star Teacher Award and United Way Focus's Early Childhood Education Professional Award among several other awards and nominations.
Special acknowledgements in helping create the outdoor classroom include:
United Way of York County FOCUS
Child Care Consultant, Inc.
Teachers, Friends and Families of Creative Roots Learning Center
Stories of success and growth in the outdoor classroom are plentiful. We had one child who was terrified of animals and rarely spent time outdoors. After a few short months, he was entering our rabbit and goat areas and petting them. It was amazing to see him go from petrified and screaming to petting the animals. He even now says he wants a pet rabbit.
We've had children who would cry if they got dirty let alone touch grass with bare feet. After a while, we have trouble keeping shoes on when needed and washing up. It is such an amazing transition.
Comments about the space include:
"I've never seen such a big sandbox.
The children really love to play there!"
"The kids loved the squash they grew in
the garden and the recipe you gave us."
"I could never get my child to eat
vegetables before planting this garden."
Lori Cannella, Director
Address
546 Mumper Lane
Dillsburg, PA 17019