Crown Hill Explorers Cooperative Preschool
As an outdoor classroom we were already spending a majority of our time outside but we would come inside early during inclement weather and had the second half of the day inside if it was cold or raining. We spent all day outside if the weather was nice.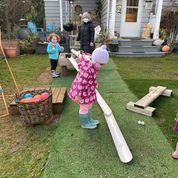 With the 2021-22 school year entering a second year of Covid we moved from an all virtual curriculum to a completely outdoor curriculum. We added an outdoor bathroom with potty chairs and a hot water sink, outdoor eating areas, outdoor pop-up tents for raining weather, outdoor heaters for chilly days and re-thought our curriculum to incorporate being outside all the time.
The children have adapted well to the Covid guidelines and being outside even in the wet Seattle winter weather. It was a challenge to stay dry and warm on some days but we added a lot of movement activities, bubble chasing, running to find hidden things and marching parades.