Cummins Child Development Center
Children in our care continue to participate in many opportunities of exploration, creativity, investigation and study to learn about many lessons of the great outdoors in our Nature Explore Classrooms.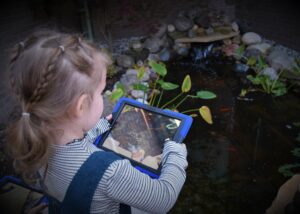 The goal is to assure that every hesitation and fear that children have about going outside is diminished (fear of insects, fear of different temperatures, fear of different types of weather. etc…)
Because the outdoors is considered a universal environment for people including children all over the world, the children in our care do very well after they have had many opportunities to explore outside. It is there that they can identify and express their feelings and discover how relaxed they feel when they are outdoors thus gaining trust in the environment with all of its surroundings. The children continue to roll down the grassy hill, play in the mud pit after a spring rain, and observe the geese on the other side of the fence from the observation deck. There, the children can observe baby goslings huddled with their mom and dad in the grass.
In the garden area, the children are currently caring for their vegetable and flower gardens. Each individual class has a designated garden plot where they are watering their vegetable plants and pulling weeds. The fruit trees have completed their flowering cycle and soon will be producing fruit. Peaches, apples, cherries, and pears are forming on the trees and the children are making observations of the different stages of the growing fruit. They will then harvest the fruit and vegetables in the fall and follow recipes to prepare and cook the food that they have harvested.
The Nature Explore Classrooms are rich in color, sounds and smells. The constant sound of the bees, birds and babbling creek along with the sweet smell of lilac trees, honeysuckle and viburnums are all attractions that make us all want to spend more time outdoors.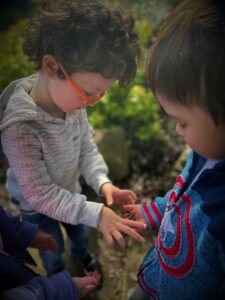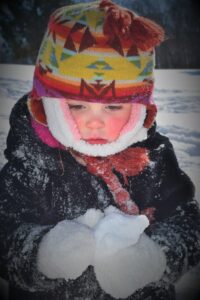 Child Development Center
Outdoor Classroom

Infants and Toddler Outdoor Classroom