The Nature Explore Classroom at
Cummins Child Development Center-Infant and Toddler
Our story is consistent with our mission; respect for oneself, for others and for the environment.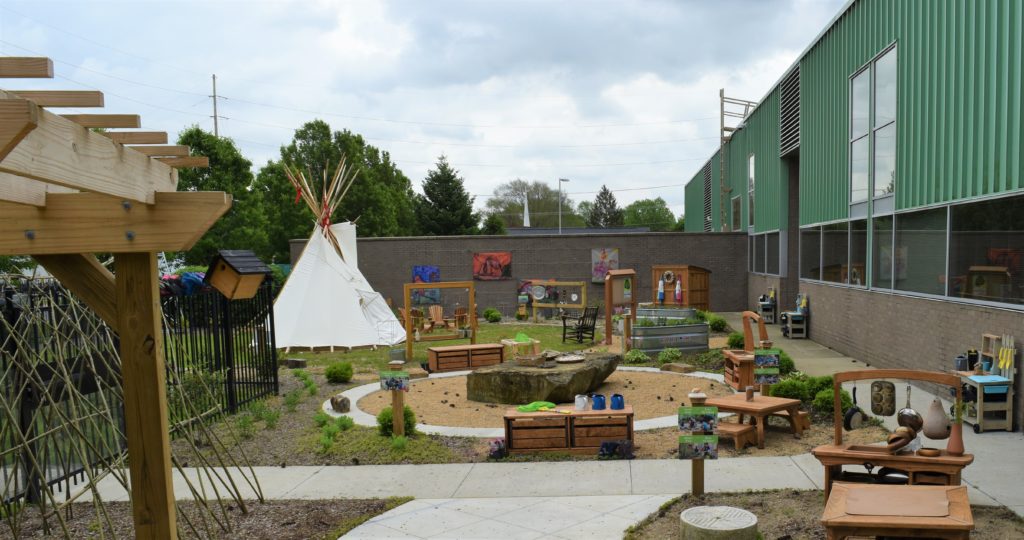 Currently, children are more inclined to be fascinated with technology or screen time in today's world. They are less in tune with themselves and who they are as little people, their social-emotional development tends to be delayed and as a result, it is hard for them to relate to their peers and they no longer play outside but are more inclined to occupy their time on technology devices.
Our mission is to offer children opportunities to explore nature in its entirety at their home away from home. The Cummins Child Development Center is committed to allowing children ages 6 weeks to 6 years old to explore nature in an environment that exposes them to beautiful plants that bloom and attract insects and birds for three consecutive seasons. There are also interest areas or "exceptional features" such as the Tee Pee and Hobit hole that are unique to our Nature Explore Infant and Toddler classroom and that allow children to use their imagination in nature. There are herbs that can be harvested for the children to experience and use their five senses, as well as children's artwork that is displayed on canvases that convey to the children that their artwork is worthy of being hung.
The Infant and Toddler outdoor classroom is a very special place that was designed for the very young. The success of creating is completed, however, the success of using it as a tool for candid education is yet to come. We are excited to watch the children as they engage themselves in the wonder of nature in the outdoor classroom. Our intent is that they connect and stay connected to the outside world and gain a sense of peace and serenity that one can not teach but that can only be attained through positive outdoor experiences.

Address
650 Pleasant Grove
Columbus, IN  47201