The Nature Explore Classroom at
Cummins Child Development Center
Our journey to creating a Nature Explore Outdoor Classroom began when our Cummins Liasion, Victoria Baker, decided to take a group of children on an outdoor adventure "field trip".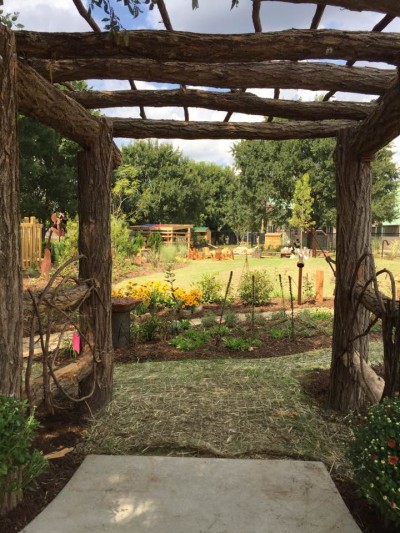 It was during this time that she discovered something that she had been seeing more and more over the course of time. While on their adventure the children seemed to be much more consumed by the elements of the outdoors. A few of the things that the children did not like were being hot and getting sweaty. They were afraid of most types of bugs or creatures they encountered. The children did not enjoy walking, exploring, or just being outdoors in general.
As a team, we have had many discussions about all of the adventures that we enjoyed in our childhood, and that many of these memories and joys included activities that were outdoors. We loved catching fireflies and caterpillars, playing in the rain and standing water, climbing trees, riding bikes, and many other activities. We came to realize that the children of today spend very little time outdoors and we think that this occurs based on a few different factors.
Parents themselves do not particularly enjoy being outdoors.  They sometimes worry that their children will get dirty or hurt. Fear of the unknown, bugs and creatures, is very real to them. Many parents grew up in the generation when playing outdoors became less and less, so it is what is "typical" to many of them as well. "Screen Time" which includes, TV, computer, tablet and video games is much more the norm in the society of children in the current days.
Our dream is to incorporate outdoor activities even more into the daily lives of children! We are so incredibly excited to have the opportunity to introduce our outdoor classroom to the children. The experiences they will be exposed to will be limitless! Taking fear and the unknown out of adventures in the outdoors creates a great joy in our hearts. We are eager for the beginning of our transformation: hoping to re-route the fear and unfamiliar into any everyday occurrence and love!

Address
650 Pleasant Grove
Columbus, IN  47201
Classroom website