The Nature Explore Classroom at
Dakota Kids
According to recent studies, the average American child spends 4-7 minutes outdoors and over 7 hours indoors in front of electronic screens every day. After reading more about this study, I knew I wanted to add an outdoor classroom.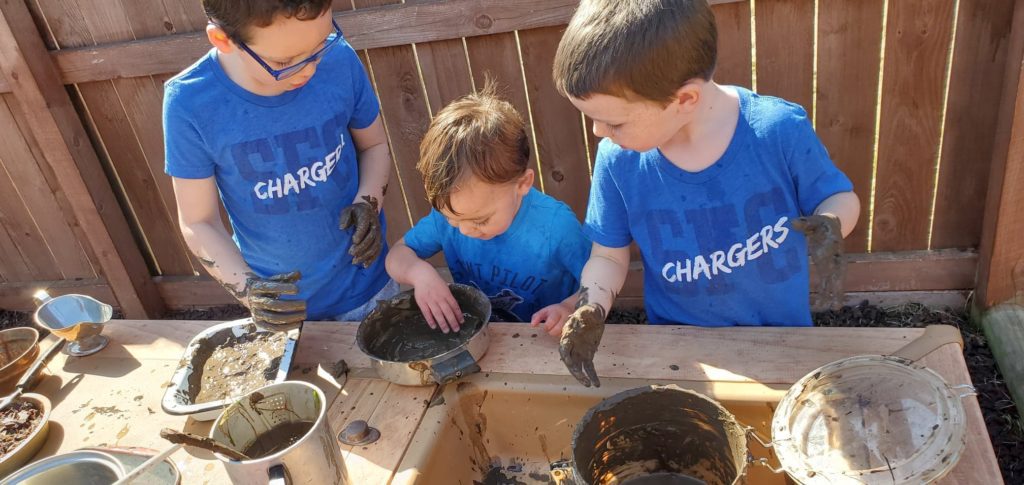 We saved for a couple of years and slowly built things as we were able. I started by having my husband build a mud kitchen. The following year he built our sandbox and large outdoor blocks. I received a $500 grant to get an outdoor wood table. I was also one of 50 winners to win the National Child Care Teacher Award and was awarded 500 to use on my outdoor classroom project.
The outdoor classroom offers a full range of open-ended activities. The children are able to explore the natural world with tactile learning. The children have the power to control their actions and go on many outdoor adventures. They use their imaginations to create, explore, and learn about the outside world without spending time on electronics.
My ultimate goal is to get kids outside and provide them with the tools they need so they can get completely absorbed in their play and exploration. I want to provide an area where the children are free to explore, think outside the box, and use their hands and minds to discover new ways of learning and playing. Studies have shown that students tend to have increased concentration and are more motivated and willing to learn when they are outdoors. I want to prepare their outdoor environment with as many opportunities as I can to help them grow into happy, healthy, confident adults. It would make me so proud to be the first in-home Certified Nature Explore Classroom in the state of South Dakota!

Address
Sioux Falls, SD