The Nature Explore Classroom at
DayStar Childcare
The Englewood Nature Playspace and Garden has developed incrementally over the past 10 – 15 years. We are located in an urban area on the near eastside of Indianapolis. Our space began as 3 empty lots that were unsightly and attracted undesirable activity to our neighborhood.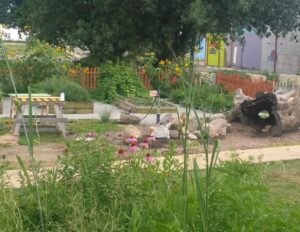 Once we acquired the property, we built several raised beds and some benches with the hopes of gardening with children. We did garden, but quickly realized that small children would much rather chase butterflies and grasshoppers and play with sticks and rocks. We then began to think more creatively about our space, deciding to intentionally bring more nature to the space so children could "play with nature in nature".
Through our relationships with local neighborhood organizations we became familiar with a project that Keep Indianapolis Beautiful was doing in creating small parks in neighborhoods. They were very happy to come along side us and help us design and begin a more intentional development plan. They were very instrumental in getting us off to a great start. They provided materials, education, many volunteer hours, brought in soil to create hills and they provided many native plants to beautify the space.
Soon after, we received a couple of large grants to help with infrastructure and were able to add a walkway, shelter, large 600 square foot sand play area, pondless waterfall and fire pit. The property already had 2 very large mature Chestnut Oakes and we had already planted fruit trees in the very beginning creating a small grove. Over the years other grants have been acquired enabling us to develop the required areas so that we can be certified as an official Nature Explore Classroom.
Our Outdoor Classroom is a fluid space, in that we are constantly changing, improving, adding, re-assessing what can and should be in the space. As we learn new things, observe our children at play, and as we are given the gifts of new people, materials, and education, we regularly make decisions for our classroom that improves the quality of our outdoor education for young children. We have found that our families appreciate our Outdoor Classroom and are glad to be able to engage with their children outside of school hours for special events and playdates.
Address
28 N Oxford Street
Indianapolis, IN  46201