Discovery School
Our Outdoor Classroom has provided the students with opportunities to learn in a safe space that allows them to spread out and explore without wearing masks. It has been a literal breath of fresh air!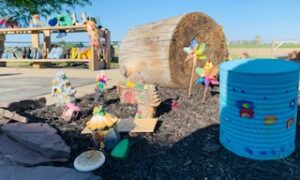 We are located in Ohio–a four-season state–which means we are occasionally limited by the weather; if it's too cold or too wet-the students take a "day off" from the outdoor classroom with plans to use the weather for more provocations when they return to it.
In the fall, the appearance of mushrooms fascinated us all! We began finding them in the grass, the mulch, on tree trunks, and even wooden tables and stumps. The students became mushroom hunters and our outdoor classroom was transformed into a Mushroom Research Lab. The winter months sparked questions about frost, ice and snow while the spring months create curiosities surrounding bugs, worms, plants, and wind. This year was particularly rainy, which led to worm expeditions and the building of multiple worm homes.
As our school year came to an end, the students were working on a few maintenance projects to ensure a safe space for next year's students. They collected broken and unsafe wood, empty containers, and unusable materials. They also helped move furniture such as tables and chairs to create new sitting areas. The amazing thing about the outdoor classroom and the students who use it, is the development of responsibility. The beauty of the space, along with the learning opportunities it provides, demands respect from the teachers and students. With that respect comes a sense of responsibility to not only maintain the same level of beauty, but also to expand the learning that takes place there!