Discovery School
The implementation of an Outdoor Classroom has impacted our program in countless ways! Not only did it offer our students a place to extend their learning adventures, but it also allowed them to engage in a more authentic way of learning. Modifications and updates are necessary for keeping up the quality of the space and the functionality of each center. This year we included 2 extra-large tractor tires, a water table, pallette benches, a climbing area and an art center!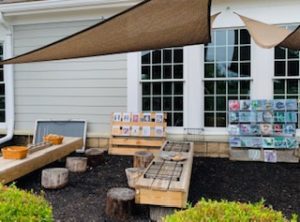 First, we added a large sandpit and decided to relocate the Building/Construction center to that area. The building materials are now housed on shelves in the sandpit and the students have found inspiration in building structures on the unique surface that sand provides. We placed one of the large tractor tires in the middle of that area and secured it, vertically for the students to climb through, sit inside, build against, etc. The other tire is in our Imaginative Play center-full of sand-and the students have added plastic animals, they take spoonfuls of sand from it to use in the kitchen, and they bury "treasures" in it to be found later! In addition to the sand tire, we added a large water table equipped with funnels, tubes, and other various containers.
We decided, also, to create a place for the students to tap into their artistic talents. We added paints, art trays, and a multitude of art materials. The students are free to grab an apron and express themselves creatively in nature.
During the summer months, many PreK students planted herbs and flowers in garden boxes that are often picked and used as spices in mud recipes or as a garnish atop sand cakes and brownies!
Large plastic storage bins house some of the materials during the winter months but many materials have had to be replaced. Larger bins or even a storage shed would be beneficial to protect more of the materials used in the space.