DKH Academy
Our story is a wonderful one filled with a million laughs and a ton of learning. We have been blessed by wonderful families to support our program and help it develop and grow so our children's experiences can expand year to year.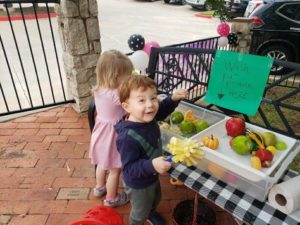 Each summer, we spend a lot of time cleaning, expanding and tweaking our program to make it bigger and better for the next school year. Then during the year, we enjoy watching our faculty and staff take the materials provided and turn it into a wonderland of amazement for our students.
This year we had the joy of creating a farmers market for our students with the help of some community members and an extremely creative staff. Our students loved it so, but our staff was just as excited to enjoy the day at the market. It was a beautiful way to watch nature, students and learning come together.