Dodge Nature Preschool
Preschool staff spend time during our staff meetings and trainings diving into reflective practice. We want to understand our own biases and work to ensure our program creates a safe and welcoming community for all.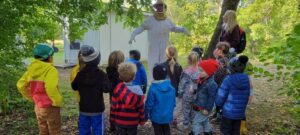 Staff spent time selecting books and classroom materials that represent diversity in our surrounding communities. These books and materials are great opportunities for discussion. Families are invited to share resources they know about or reach out if they have ideas on how we can do better and improve our practices. Children are given opportunities to learn about their local community starting with the self, family, classmates, nature center, and beyond.
We recently partnered with Dakota County on a community mural project. Preschoolers got to meet the artists and help inspire the design of the mural for the Charlton Tunnel along the R2R Greenway bike route. This fall, preschoolers have seen the artists and Garlough students finalizing the mural inspired by our local ecosystems. This year we also formed a playscape task force that is looking to the future for sustaining and enhancing our outdoor space.