Dora L. Lewis
Family and Child Development Center
at the Weinstein JCC
Our parents have not been able to come into our building again this year, so we have been inviting them into our outdoor spaces in order for them to feel more connected and better understand how their chidden spend their days.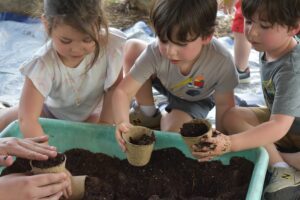 Individual classes held family socials in Outdoor Classrooms, the Edible Schoolyard, and in some of our nature areas, giving parents a chance to meet and socialize with each other and teachers, children a chance to show their parents their special spaces, and teachers a chance to share the value of time spent in nature.
We also held several school-wide events:
• In celebration of Earth Day our Nature and Gardening Specialists planned a "Campus Crawl" where families had the opportunity to tour all 9 of our outdoor nature areas, with a special activity to do in each one. The children loved guiding their families around and showing them what they do each day, and the parents were amazed by the many unique areas we have created, each with its own personality!
• Families were invited to celebrate "Shabbat in the Garden" where our Judaic Specialist led them in Shabbat songs and blessings, the Garden Specialist planned a planting activity, and the families enjoyed a picnic dinner in the garden together.
• We partnered with the Jewish Community Federation of Richmond for several "Holiday Hikes" at a nearby park. Each event included a hike, holiday songs, and a related activity.