Early Learning Center
of Granger Community Church
Our Nature Explore Classroom is a very special place here in our community. There is not another playground as unique as ours.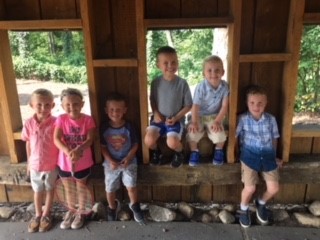 We are so blessed to have our certified Monarch Butterfly Waystation that features a boulder fountain and native plantings which is food and habitat designed to attract butterflies. The science and education the children learn from this experience alone is immeasurable.
We have nine beautiful raised bed gardens with a variety of flowers, potatoes, tomatoes, peppers, cucumbers, blackberries, and pumpkins. The children can learn about plants and the growing process. We harvest some of our vegetables and share them with our local ministry's Food Pantry. We make snacks with some of the fruit and vegetables we pick right out of our garden and we can pick fresh flowers to put on our tables in "housekeeping" in our classrooms.
We have a log-lined Sandbox that stretches 25′ by 45′ with coves for individual play. It is lined with stumps from wood on site. Our Activity Deck features three platforms for active exploration up, down, over, under and around with several attached slides and natural challenges for big muscle play. This was constructed by our own ministry, Carpenter's Hands. We have an amazing Playhouse cut from timber felled on the property with a portable sawmill. The playhouse features solid red oak planks for flooring, hickory siding and maple beams. It has a front and back porch for imaginative play.
We also have a magnificent Covered Bridge that is part of our tricycle and scooter trail. Our Dry Creek Bed features three levels of managed risk-taking for climbing and exploring. And last, but not least, we have animal tracks on our paths. The tracks were created with the assistance of St. Joseph County Parks naturalists and Camp Friedenswald. Our path features 15 different animals from a robin to a porcupine.
We consider our Nature Explore Classroom to truly be an extension of our indoor classrooms. Whether it is our Master Naturalist, Ms. Carla or our Fine Artist, Ms. Olivia we love to bring the Arts and Sciences to the outdoors here at the ELC. Our gate opens to the community every evening after 5:30 p.m., during school and all day on the weekends.