The Nature Explore Classroom at
Early Learning Center
of Granger Community Church
The Early Learning Center (ELC) is a progressive, faith-based school for young children located in northern Indiana at Granger Community Church.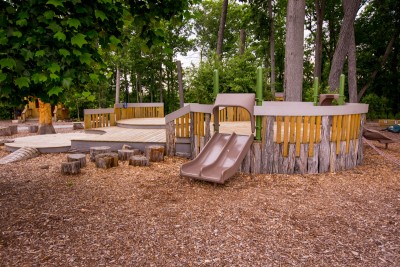 We opened three years ago in the fall of 2012. Our purpose is simple:
We walk with families to grow in Christ and to inspire a love of learning in their young children.
When we walk together, there is time for meaningful conversations, noticing God in the small gifts of nature, thinking deeply. We chose the dandelion as the symbol for our school. Dandelions represent hope, happiness, and childhood as well as a commitment to nature!
The Natural Playground project was begun to create an outdoor environment for young children ages 2-6 to explore with their classmates and families. Our playground was built on over an acre of fenced-in property at the edge of a small hardwood forest. To manage the project, a group of folks from the community gathered (including our littlest ones!). We used The Ten Guiding Principles for Outdoor Spaces for Children by the Arbor Day Foundation to plan and prepare. An amazing Seeds for Learning Auction raised money for playground equipment and a pavilion.
Here at the ELC, we offer lots of outdoor learning opportunities for children and their families during school as well as after church services. We have three goals for this space:
• Cultivate faith through connections with nature
• Renew families through shared time together
• Extend learning through intentional outdoor environments
What will you find on our Natural Playground? A covered bridge made of hundred-year-old barn beams that stores trikes; a circular butterfly garden with a path to a boulder fountain; a 45-foot sandbox lined with tree stumps; a pavilion with a 6-foot stainless steel hand washing trough; a playhouse made of native timbers planed on site with a portable sawmill; 15 different animal prints embedded in the trike path; and a chainsaw carving of a soaring eagle!
Playing outside these days is a loooong way from the childhood many of us knew; the early years when we easily spent the entire day outdoors. In today's society with its strong emphasis on nanoseconds of time and Gigabytes of memory, how does a child move slowly and have little thoughts? How does a child learn to take a risk? Children sense the world differently than adults. How do we keep the spirit of childhood protected, nurtured and alive?
The children at our school jump off rocks and logs, pick fresh strawberries, furiously pedal their trikes and dig carefully planned villages in the sandbox with caring, intentional teachers by their sides. Our Milestone Celebration on the playground brings together over 400 people at the end of each school year to celebrate our children in the community. This coming year, we will host a Nature Explore Workshop and begin a Family Nature Club. Our hope is the Natural Playground will keep childhood small, real and personal. The dandelion seeds float on!


see most recent
Address
630 E. University Drive.
Granger, IN 46530
Classroom website
Facebook