East Heights UMC Preschool
Our Nature Explore Outdoor Classroom space is utilized each and every day by our preschool students. The space is also utilized once a week by our Children's Day Out Program for both the fall and summer sessions.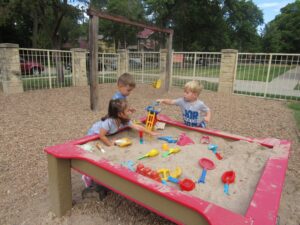 The past school year during our Community Helpers and Fire Safety Unit the children got to put out fires. We stacked red solo cups to represent fire. The children used water squirters to shoot water and put out the fire. We have a pile of firewood which the children enjoying stacking and pretend to build a fire. They are quite creative and will sit around the campfire and pretend to make s'mores.
We cleared a space and added pea gravel to make a digging area to use the large dump trucks, excavators, and diggers. The children enjoy filling the dump trucks with rocks and dumping them back out.
As the weather begins to cool down the teachers take their classrooms outside and will have circle time and story time. During our senses theme the teachers engage the children in many different activities that are age appropriate for the individual classrooms. Our Pre-K explored all five senses, hear, smell ,see, touch, and enjoyed a snack for taste.
At our Open House event we have a scavenger hunt which leads them to the Nature Explore Classroom to collect their bag of popcorn. This gives our parents an opportunity to see the space and engage in outdoor fun with their children. This space helps to build a strong foundation and gives the children the opportunity to grow and learn in a fun, exciting, and safe environment.