The Nature Explore Classroom at
East Heights UMC Preschool
Upon entering the outdoor space, the children skip through the Outdoor Classroom entryway.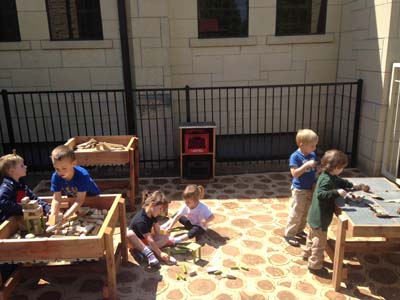 From there, they have many choices. Some will head to the dynamic play or the climbing area. Others choose to go to the Messy Materials, moving and building with branches.  Some children will go to the Music and Movement area, playing a rhythm or they might pick up scarves and begin dancing to the beat.  In the Nature Art area, children will create something new with the natural materials at hand. Others like to build and stack the natural blocks or investigate the river rocks to see if their favorite rock is still among them. Some students will move to the Garden area and touch the soft plants and natural grasses or pinch an herb to see how it smells. Several children always head for the treehouse, where they love to lounge in the hammocks created by the brightly colored scarves tied to the branches.  Many put on the butterfly wings and pretend to be caterpillars emerging from their chrysalis, flying away to find brightly colored flowers to feed upon.  Some are soothed by water play. The Outdoor Classroom has something for everyone and offers infinite possibilities for learning through play and hands-on learning encouraged by the adults who only want to foster the love of learning and nature.
Our Preschool began in 1976.  Our logo is a tree with roots and our motto is "Rooted and Grounded in God's Love".  After attending a conference on outdoor learning, our staff decided to create an outdoor classroom to enhance hands-on learning through play opportunities not just inside the classrooms, but outside as well.  We wanted to foster an awareness, respect, awe and love of nature by incorporating an Outdoor Classroom into our program.  We worked to educate and share our vision with the church and preschool families.  It's been wonderful to see the results of everyone embracing our vision and working together to turn our dreams into a reality.
Just as the church and preschool families have embraced our vision, so has the community.  Many businesses have donated materials or service to the project.  The drums in our Outdoor Classroom were a memorial gift.  One young man whose life was touched through the Circles of Outreach group wanted to give back and volunteered to help.  Our entryway feature was built as an Eagle Scout project by a local scout and his troop.
Our Outdoor Classroom is a work in progress. We still have plans and feel that our space will continue to evolve and grow.  The seed has been planted and with the love and care of our hands and minds, it will continue to flourish and thrive as any living thing does, rooted and grounded in God's love.
We wish to thank all who have played a part, however large or small, in joining with us and making our dreams a reality for the children we serve.
Robin Eshelman, Preschool Director

Address
4407 E. Douglas Avenue
Wichita, KS  67218
Classroom Website
Facebook