EcoTarium
Located in the heart of the Commonwealth, and the second-largest city in New England, the Nature Explore Outdoor Exhibit at the EcoTarium in Worcester, MA offers endless play opportunities and engagement with nature to families in this urban community and beyond.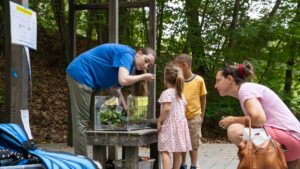 The Nature Explore Outdoor Exhibit consists of twelve interactive play areas designed to engage families in open-ended imaginative play and to get hands-on with nature.
The most popular areas continue to be the sand digging area and the Water Pump/Messy Materials Area. The provision of loose parts combined with the imagination and creativity of our young guests results in a variety of "campsites", "mud kitchen restaurants" , rock/stick dams and tiny habitats for gnomes being constructed. The Music and Movement Area includes a stage, which is often used by children to put on their own skits using colorful cloths, costume animal wings and their imagination.
This year, our on-site Summer Discovery Camp utilized the outdoor play space in a variety of creative ways including using rocks and sticks to make a bridge. Also during this summer, paid interns practiced valuable job skills such as interacting with the public and leading activities and crafts. Every year we host Mud Day, Insect Day, and Feather Fest. All of which take place in Nature Explore Classroom.
The exhibit, which opened in August 2014, was a collaborative effort between EcoTarium's trustees and staff, the landscape architect/educator team from Dimensions Educational Research Foundation, the dedicated work of a local landscaping company, and through the generous support of community donors and sponsors.