Edward "Babe" Gomez Heritage
Edward "Babe" Gomez Heritage Elementary has two Nature Explore Nationally Certified Outdoor Classrooms. We are located in South Omaha at 5101 S. 17th St. "The Janette Gilbert Memorial Outdoor Classroom" was built in memory of a beloved staff member who loved Nature. Her widow, Mike Gilbert, continues to volunteer in our Outdoor Classrooms. "Timberwolf Park" is our second OC. It is geared towards PK/EC-K. Students use the spaces daily.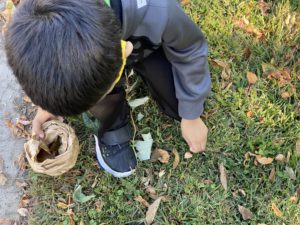 Our Outdoor Classrooms first began when then Principal John Campin heard about the concept. He grew up on a farm in the rollling hills of Iowa, so being and playing in Nature was important to him. He attended a Nature Explore workshop in Nebraska City, gathered community and staff support, and we began the amazing partnership with Nature Explore.
Our OC spaces are sacred, healing, relaxing, motivational and academic driven. Over the past decade we have developed two OCs, collaborated with many local organizations, families, and other OPS staff – hosting them for workshops. We engage in ongoing collaborative gardening with several local organizations, including The Big Garden, No More Empty Pots, and Wells Fargo's Green Initiative. Volunteers have made our spaces successful.
This year, 2020, brought a school closure in March-August. Our OCs were overrun with nature!…weeds….weeds…..and more weeds. This is a slow process of weeding and cleaning up, and one we will continue to be committed to with our new leadership, Principal Rocky Parkert. Mike Gilbert has been back to volunteer, replacing boards on our stages and consulting. Octavia Butler and Stephanie Carlson-Pruch meet regularly to discuss our needs and challenges. Stephanie will apply for a grant in December to continue to purchase necessary items.