Environmental Learning Center


The Environmental Learning Center has multiple volunteers dedicated to the upkeep and maintenance of our Nature Explore Classroom (the Imagination Station) in addition to a full time maintenance staff member and a full time Naturalist who oversee the planning and development of the Classroom. Together, we make sure that the play tools, watering cans, wooden bowls and spoons, shells, rocks along with other natural items, and the area itself, are kept in good condition.  We replenish and repair these items as needed.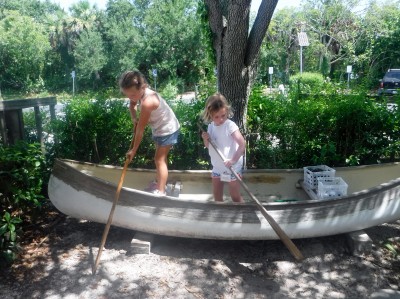 Among the highlights of our Imagination Station is a real canoe with oars, where children can imagine themselves out at sea or on the waters of the local Indian River Lagoon.  Our play area also features a large bin that collects rain water with which children can fill watering cans.  Additionally, the Imagination Station has a large tic-tac-toe table where children can use rocks, sea beans, pine cones or other natural items to challenge their friends or parents to a match.  The ELC's outdoor playground also has a sandbox and an elevated stage.
Our newest addition to the Imagination Station is our "Living Tipi".  Following a small path through native Florida trees and plants, children can encounter and enter a Tipi made from large tree branches.  This is a great place for children to ask questions and learn about both the natural world and history.  Some of the branches used to make the Tipi come from the Gumbo Limbo tree.  This is a very unique plant that can easily regenerate a branch that has been cut off the mother tree, to create an entirely new tree.  For this reason, several branches of our Tipi are sprouting, growing and making new leaves which is where the name "Our Living Tipi" comes from.