Epiphany Catholic School
In Fall of 2019, many new preschoolers entered our Outdoor Classroom for the first time. Each year, we love seeing their faces as they experience it at the beginning of the school year.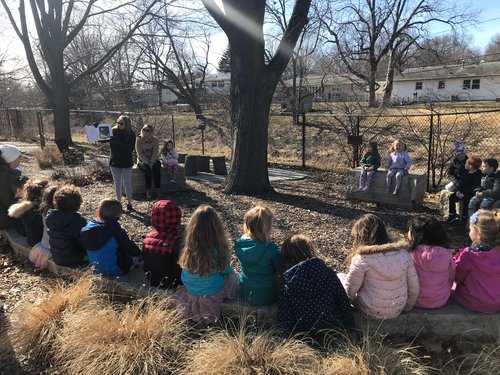 Our Outdoor Classroom is expansive; our students are able to run and explore all of the areas, using their creativity to guide them.
Each year, we strive to find more ways to utilize our Outdoor Classroom. Prior to the winter, we asked our students what they would like to see join our space in the spring. The Covid-19 pandemic threw a wrench in our school year and in turn, we had to close our Outdoor Classroom gates several months early. Due to the pandemic, we weren't able to use any of our new items during this school year.
We are looking forward to adding balls, chutes, and more natural blocks to our building area. Our music and movement area is getting a storage container with more instruments; we hope to see more musical collaboration among students. Our art area will have weather-proof containers with clipboards, paper, and writing utensils so students are able to draw in all areas with ease.
This May, we were able to have individual families volunteer in half-hour and hour time slots to spruce up our space after it's lack of use. We followed social distancing and sanitizing protocols and volunteers raked leaves, turned over mulch, cut dead growth, pulled weeds, and cleared pathways. We are looking forward to when we get to use our space again!