Epiphany Catholic School
The Covid-19 pandemic has affected children in many ways and what we saw during the 2021-2022 school year was our youngest learners needing a lot of time spent in nature. Gross motor muscles needed to be stretched and used and our Outdoor Classroom was vital to their overall success.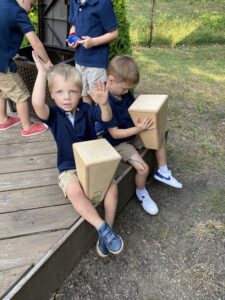 Students were also very interested in insect life throughout the space. Many spent most of their time observing bees and ants; learning about ant colonies and respecting the idea that we were now in their home and our job was to observe, not destroy.
Many of our students enjoyed sensory experiences and dirt digging was their favorite area. Students got their hands very dirty and took advantage of their time outdoors to really explore the dirt. We did not do any formal planting, but students enjoyed burying seeds or other items they found. We encouraged all students to explore any way they wanted; encouraging independence and exploration of their true interests.
At the culmination of our school year, families were invited to explore our Outdoor Classroom with their student(s). Families were able to take part in the insect observations, making music, enjoying the shade under our new canopy, and playing in all the areas their child loves most. Prior to the start of the 2022-2023 school year, families will come together to spread all new playground mulch and get the space ready for all students at the start of the year.