Estes Children's Cottage
2020 has been a trying year for early childhood programs. But with all of the challenges, our play yard has been our respite and our savior. After a two-and-a-half-month closure due to the pandemic, we chose to reopen relying even more on our outdoor spaces.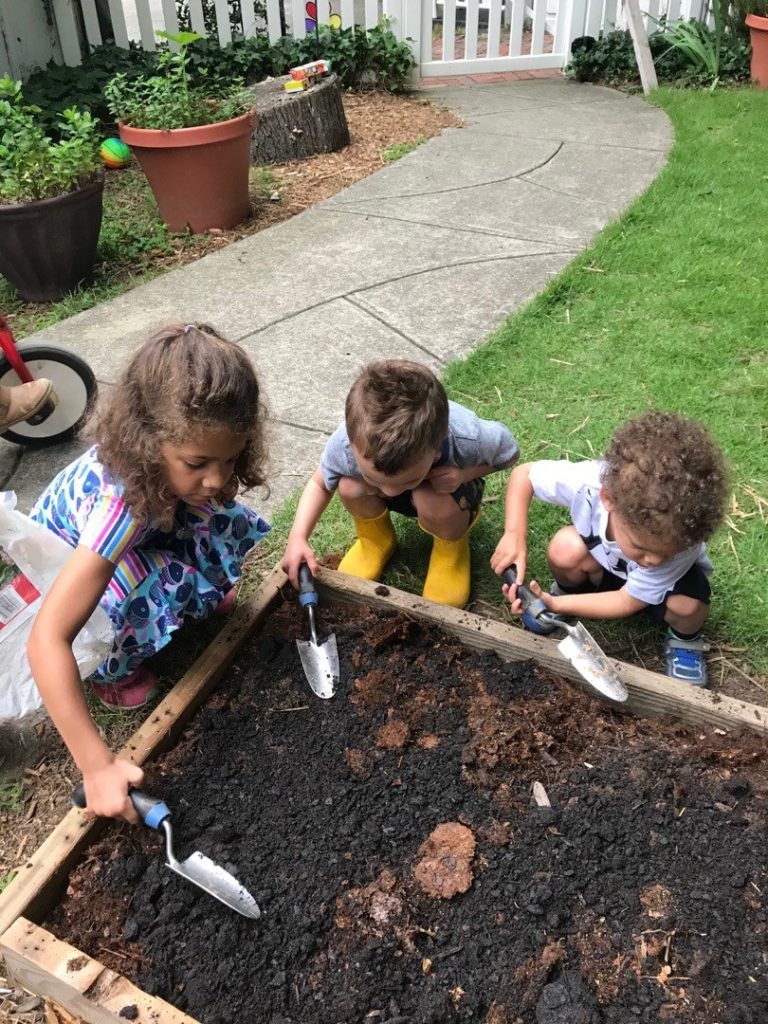 Families do not enter our indoor or fenced outdoor environments, so arrival occurs at our play yard gate entrance. We continue to use our covered porch for afternoon snack and departure. Even more of our day is spent outdoors, eating breakfast outside, and when we are indoors keeping the doors open with screens so fresh air can flow through the inside. We still use our indoor space as it is needed for toileting, diapering and handwashing in the most sanitary way we can provide.
During our closure in the spring, our play yard became what we could offer our families on an individual basis by appointment so they could still have an outdoor experience at the Cottage. Public parks and playgrounds were closed and with home confinement for many, our families were eager for the change of scenery for their toddlers and preschoolers. We diligently sanitized the tricycles, shovels, pails, and even the plastic dinosaurs we staged for a hunt for each family when they arrived. Chalk was also put out to give each visiting family a chance to leave a message or at least their mark, for continued contact with each other, during this extended period of isolation. We offered provocations for each family of activities to try and natural items and wildlife to look for around the yard to encourage the families to explore all parts of our Outdoor Classroom. For those that were graduating from our program without our usual rituals, it gave them and their families one last visit at the Cottage to say a proper good-bye to a place they had been for up to several years and to us as teachers, albeit masked and at a 12-foot distance. We got a lot of positive feedback from families that visited the yard and comments on how it helped the children stay connected to our program and many exciting observations
We also used our closure for repairs and projects in our outdoor space, redoing our sound/play platform, adding steering wheels for dramatic play and cleaning and organizing materials.
Upon reopening one of the first projects we involved the children in was helping to build a raised garden bed. Our local Partnership for Children donated and delivered the 3 Sisters' Seeds Combo. Our tomatoes of 2019 planted in the hay bales left from fall play grew so tall they ran into the pine trees and this year the pole beans followed suit, being at least 10 feet tall. Our herbs survived the winter, and we added some new ones to the mix. Their aromas as well as the honeysuckle's persuaded the children to make teas and mint-infused water.
We also have continued our routine of never missing outdoor playtime despite the hurricane and tropical storm season bringing us many days of torrential rains. Thanks to our Muddy Buddies and no threatening weather in our immediate vicinity we have faithfully continued our 15-year tradition.
Despite our in-town location we continue to have wildlife guests to our play area and this September proved to be our most disconcerting. Squirrels, chipmunks, birds, frogs, lizards, and insects are always our constant companions on the play yard. And deer come through, although they stay outside of the fence, but enjoy the pear and apple trees adjacent to our play space. We have on more than one occasion seen a newborn fawn either in our grass or the woods adjacent to the fence, left for safekeeping while the doe was hunting for food. And our resident groundhog once gave birth to two babies who had no trouble coming under our fence and eating our planted sunflowers.
This September we noticed on a Monday morning that two of our log stumps placed around our sandpit had been shredded to bits with some of the larger pieces tossed or flung onto the tarp that covers the sandpit. We also noticed that our one squash of considerable size was gone as well as a peach that had been growing very high up on our ornamental peach tree. After one of our teachers did some internet investigation and had contact with a person with an MS in Forestry the conclusion was it must have been a BEAR! We checked with the county and there have been sightings. We were also told that since this is hibernation prep time bears are really looking for food, and the ants that had made a home in two of our logs are one of their prime treats. And there were no ants left with the log remains. Upon further investigation, we discovered a paw print and a place on the back fence where it looked like the top of the chain-link had been pushed down a small bit where the fence was climbed, and dirt remains. It's been a tumultuous but exciting year in the Nature Explore Outdoor Classroom at Estes Children's Cottage.