The Nature Explore Classroom at
expERIEnce Children's Museum
Discovery Corner is an outdoor classroom located next to the expERIEnce Children's Museum in the heart of downtown Erie, Pennsylvania.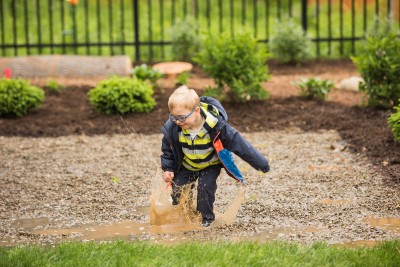 Visitors are greeted by an entry arbor welcoming them to the outdoor classroom where trees, shrubs and perennial plantings lead guests along pathways from space to space. All natural materials including plants, stone, and wood delineate all spaces providing an outdoor oasis. In Discovery Corner children develop language, discover and investigate the natural world, practice mathematical concepts, develop a positive sense of self, actively participate in learning, express their emotions, and move all while interacting with nature.
Dahlkemper Landscape Architects and Contractors were contracted for the design of Discovery Corner, which opened in June of 2015. In April of 2016, a timber frame structure was added to provide shelter in the classroom gathering space. The overall design incorporates pathways that lead guests throughout the classroom. Plantings were chosen to bring color, height and texture to the outdoor classroom throughout the seasons. Discovery Corner was a complete transformation from a former vacant parking lot to a green space designed for outdoor learning.
Discovery Corner provides outdoor learning experiences for nearly 50,000 guests including more than 3,000 students each year. It is a space for families to interact with nature through comprehensive programming and by a design that helps children to use the natural world as an integral part of learning. Discovery Corner is the first outdoor learning space for the expERIEnce Children's Museum and has allowed the Children's Museum to grow into a year-round destination and a place for unique learning both inside and outside.
Included within Discovery Corner is the Hope Garden. The Hope Garden includes stepping stones made by children in memory of a lost loved one. Children visiting the Hope Garden can use chalk to draw images or words of hope on the outside wall of the Children's Museum. Discovery Corner was made possible through generous contributions from the following: Erie Community Foundation, Erie Federal Credit Union, Erie Insurance,  PNC Bank, The Ophelia Project, Wegmans

Address
420 French Street
Erie, PA  16507
Classroom website