The Nature Explore Classroom at
Finney County Public Library
A space to build, create music, draw, read, and imagine-all incorporated into the Finney Country Library!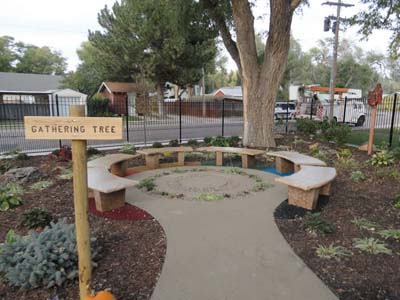 Staff and community members attended a Nature Explore outdoor classroom design consultation hosted at the library with a Nature Explore design team.  Thoughts and ideas were shared, resulting in a beautiful, welcoming plan which incorporated existing trees while also adding a large number of different kinds of perennial plants and trees to the area. The entrance to the Nature Explore Classroom is through the main library.
The Grassy Knoll, The Gathering Tree, Home of the Gnome,  River Ramble, Sunflower House, Mulch Gulch, Secret Path, Dream Building, Melody Meadow, Art Island are creative names given to the designated areas, depicting a special place for different types of activities.  Each area is accented with natural and colorful objects and signs, showing that this is truly a special area.
The classroom was designed to give full visibility from all areas at all times. In addition to the simple design layout, security cameras have a view of all of the areas and it is easy to see through the fence to the classroom, from the sidewalk and street outside.
Perennials, suited to the Garden City area, were used to keep the landscaping flourishing and maintenance low. Durable cedar was used for the stage and treehouse construction and a mix of natural stone and cast concrete allows for easy maintenance and great durability. Many personal touches were included in the design to give the classroom a "fantasy" feel. From the jelly bean glass and wood carvings to the gnome doors and fairy tale seating, Finney County Library staff has really tried to incorporate fantasy into this natural environment. A large wooden squirrel, named Rocky, was carved from an old tree trunk and represents all the squirrels that hang out on the property. Lots of local wood and plantings were used throughout the space as benches, dividers and interesting accents. One challenge incurred was the need to obtain a waiver from the city for the location of the fence.
Library Director, Erin Francoeur, attended the Nature Explore Leadership Institute in 2013 and a number of staff attended the Nature Explore workshop held at the library in the summer of 2012. A grand opening on October 26th was held for families to come and experience the Nature Explore Classroom and special programming will be conducted during library hours throughout the year.  Nature Explore Family Packets will also be available to help increase family involvement.

Address
605 E. Walnut Street
Garden City, KS  67846
Classroom website