First Church Preschool
Since its original installation, we have also added a Mud Kitchen and shade sails to our Nature Classroom.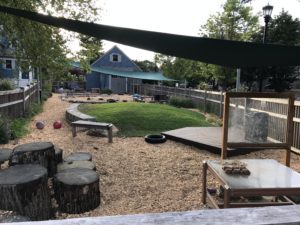 We did so through partnering with our Parent Committee, who provided volunteers to help us build the Mud Kitchen from wood pallets and a discarded double stainless steel sink, and who also did some intentional fundraising to help us purchase the sails and posts for installing the shade sails. These provide some much-needed protection from the midday sun in our Nature Classroom.