The Nature Explore Classroom at
First Presbyterian Church and Preschool of Atlanta
Teachers, staff, parents, students, church members, and community were all instrumental in creating the Nature Explore Classroom at First Presbyterian Church.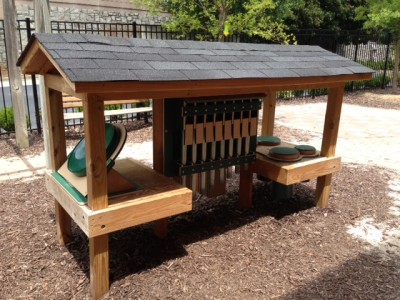 A few of the goals of the outdoor classroom include: providing hands on interaction, play and discovery that taps into children's natural curiosity; engaging children in direct sensory experiences; and instilling a love for the natural world. Products, either locally grown or found in Georgia were donated or purchased to fill the classroom. After the outdoor classroom was completed, careful observation and feedback from the teachers was crucial in fine tuning the process.
Through a partnership with The Adaptive Learning Center, which allows for inclusion for children with special needs, First Presbyterian was very strategic in modifying the grounds so that students of varying abilities could participate in the outdoor classroom. With careful planning and involvement from the ALC team, those needs were successfully met and the space now provides stimulating outdoor activities for all learning styles.
Non-toxic, pressure treated lumber was used in the construction of the gazebo as well as the art tables. Attractive, ornamental black aluminum and natural wooden fences and gates were used for separation of spaces with native grasses and shrubs defining each of the areas. Recycled wood pieces and a wood burning kit were used to make signs for each of the areas. Additionally, laminated signs were posted, indicating activities in the areas. A special sign was placed in the planting box which states, "Please don't disturb me. I'm trying to grow".
Evergreen and deciduous plants and trees add shade and interest to the space. These include: European Hornbeam, Princeton American Elm, Serviceberry, Apple, and Crabapple trees. A large variety of plants were included, such as: Green Acuba, Camelia Espalier, Northern Sea Oats, Jackman Clematis, Soft Touch Hollies, Anise, Miscanthus, Zebra Grass, Pieris, Autumn Fern, Winter Creeper, Liriope, Mondo Grass, and Butterfly Bush to encourage butterflies, bees, and other pollinators.
Archways and other manmade structures provide further delineation of rooms. Vertical growing walls were constructed out of gutters, separating spaces and providing more growing opportunities. An elevated, swinging bridge connects the Climbing Area with boulders and a slide. A wooden footbridge connects the Action Area with the planting area, while keeping the two rooms separate. Wooden railings and wood play-structures were placed along the perimeter of the grounds, thereby allowing several rooms of open space. Children can be easily seen at all times, even when "hiding" in the grasses. In addition to the main areas, First Presbyterian Preschool has added a Compost Bin, a Worm Bin and a Found Items Area.
Many Georgia native rocks, trees, shrubs and plants beautify this space. Varying textures and materials were used for pathways and edging, helping children navigate from one area to another. All of the spaces are inviting and open with an uncluttered look and feel. Using beautiful trees and plants creates a visually appealing space. Crab Orchard Cobble, stone (embedded by sand and pea gravel) and mulch, combine to provide a unique experience underfoot.
Hand sanded boulders border two sandboxes while Our Beautiful Things Area contains materials such as pine cones, acorns, wood cookies, leaves, bark, sticks, rocks, dried corn, seashells, gum drop balls, feathers, small logs, and other seasonal materials. Two raised beds, planted with tomatoes, cucumbers, herbs, Sunflowers and Zinnias, add color, height, and visual interest to the outdoor classroom. Cost efficient mulch was used and is easily and inexpensively replenished as needed. Drought tolerant grasses, shrubs and trees were planted and materials were used that do not break down easily, such as hardwoods, stone, rocks, and gravel. An irrigation system was installed which allows easy maintenance and care for plants.
In the fall, children helped to create bird houses, scarecrows, and artwork for the fences. The bird feeders attract many native birds that build nests nearby and lay eggs in the spring while Butterfly bushes attract butterflies and bees. Located within Zone 7, ongoing planting is possible throughout the year and the children have an opportunity to make observational drawings. The gardening teachers enlisted the help of many parent volunteers to help clean and replant with the children and a parent/child/teacher cleanup day is planned for the fall 2013.
Flyers, Preschool "E-blasts", and newsletters were sent to all families throughout the building process. Informal and formal meetings were held with parents and included open dialogue sessions and Q and A sessions. Feedback was encouraged and used to help in the designing process. An "Opening Day Celebration" was held when the classroom was finished and included guided tours and chance for exploration. Parents now frequently use the outdoor classroom for play dates after school and on weekends.

Address
1328 Peachtree St NW
Atlanta, Georgia 30309
Classroom Website