Five Towns Early Learning Center
We are so fortunate that over 20 years ago, some very wise Board members proposed a garden playground project for our backyard. I believe that it took over 10 years for the play garden to come to fruition – with planning, raising funds and finally building the Gertrude Rieur Garden Playground. How wise – how much foresight our Board had when they dreamed of a play garden for the children.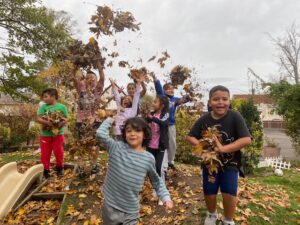 When in 2009, we opened our Certified Nature Explore Classroom, we never expected that we would live through a pandemic. We never expected all the confusion and stress that it would bring to our community, the children and the world. To serve our community we expanded our program for 18 months to include 15 school-aged children. The children who attended either had siblings in the younger classes or had attended our program previously. The school-aged group was doing remote learning – each child with their device, in their individual program.
The schedule was a bit confusing and crazy, but at 1:00pm we shut down the devices and took the school-aged children outside. You should have seen what happened in our backyard. The children built homes for the bugs and they built structures with branches to play in. They created games and played scavenger hunt. They took everything outside. They read books and played chess on the gazebo. They played tag and hopscotch. They became experts with the hula hoops. We had to buy multiple jump ropes as they all learned to jump rope. They even were competent at double dutch and had three children jumping together.
It was a joy to get these children away from their devices and watch the children (ages 5-10) play in the Nature Explore Classroom each day. Because of our Nature Explore Classroom, we have been able to give our children, trees and flowers and sky – an experience in nature. During the entire 18 months, we have been able to provide experiences in the outdoors that support, not only physical health, but mental and spiritual health as well.