The Nature Explore Classroom at
Fledglings Nature-based Preschool
@ Prescott Farm Environmental Education Center
Prescott Farm Environmental Education Center is a nonprofit organization that is committed to
environmental education and preservation.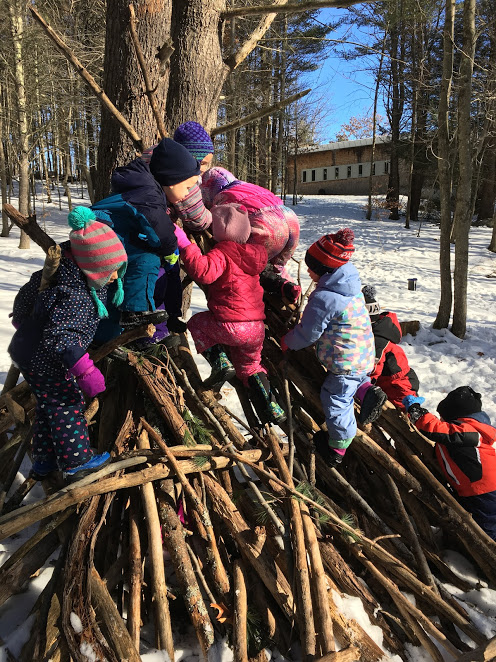 The Fledglings Nature-based Preschool, housed at the Environmental Education Center, helps students and families make on-going connections by incorporating nature art and natural movement pieces created by the students for all to enjoy and use. These nature contributions help the Playscape to be ever-changing and interesting from year to year.
Thanks to a generous grant from the NH Charitable Foundation, Prescott Farm was able put together a Master Plan design for a Natural Playscape on this beautiful Lakes Region site. With its design and the help of many community volunteers and volunteer organizations, the Playscape took shape. The well-designed space brings nature to children in fun ways with hills to climb, dirt to dig, plants to explore, mud to shape, and giant nests to sit in.
Families come to the Playscape for a smaller, open-ended, safe, natural play before and after their explorations through the center's 160-acre property of fields, trails, woods, and gardens at Prescott Farm. It is a favorite picnic location for anyone looking to connect with nature on a regular basis.
928 White Oaks Road
Laconia, NH 03246