The Nature Explore Classroom at
Frances Jacobson
Early Childhood Center
at Temple Israel of Boston
The Rita and Adam J. Weiner and Family Outdoor Classroom at The Frances Jacobson Early Childhood Center at Temple Israel of Boston is a unique learning environment that organically instills in our students a true sense of wonder about the world in which we live.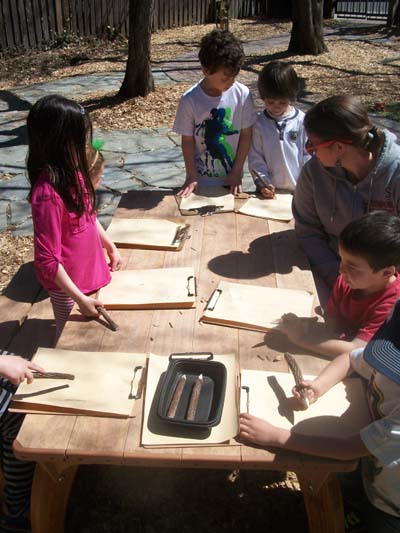 This classroom has truly transformed our urban school setting into a peaceful oasis in the middle of a bustling city.
 Children are encouraged to thoughtfully explore their natural surroundings in this beautiful and well planned outdoor space.  It is so powerful to witness children (ages 1.9 to 6 years of age) designing, planning, creating, observing, engineering and learning through the vehicle of nature.  We have joyfully observed our students connecting to the natural world so seamlessly and embracing all of its endless opportunities. We believe that spending time outdoors brings a sense of wonder and joy to children and helps to foster imagination, creativity and powers of observation as well as promoting a positive environmental ethic.
Through active, hands-on learning, students begin to develop an awareness of the interconnectedness of all living things. In the Grow area, we have an organic sensory garden where the children experience textures and smells by planting, harvesting and using various herbs such as mint and chives. They experience sounds by listening to birds, observing bees and other insects who buzz about the flowering plants. We also notice and compare which leaves are nibbled and which are ignored by our small rabbit visitors!
The Discover area has a digging pit with a "mud kitchen." Here the children can mix delightful concoctions using found objects such as leaves, acorns and crabapples, and search for hidden treasures such as earthworms.  In the Groove section, children use their imaginations to create music on a large wooden marimba, dance and act out stories inspired by nature on a stage that has been constructed.
The Pump area boasts a bright green hand pump where children engage in water play. They can carry water to the Grow and Discover areas, or use various materials like pipes and gutters to experiment with the physical properties of water such as the effect that gravity has on flow.  In the Construct area, children create large structures using heavy blocks, sticks and tree cookies. Their pirate ships, grocery stores and rockets not only provide dramatic play opportunities, but the designing aspect, engineering and cooperation necessary to complete each project fosters many additional skills.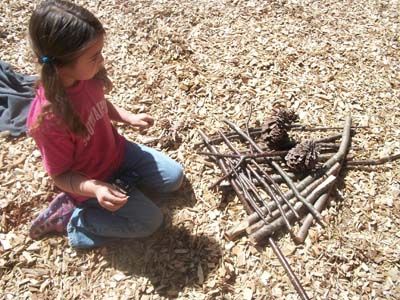 We also have an Explore area, where we use found objects to create art; a Create area, where children can build with smaller objects; and a Gathering area, where we join together for storytelling and other group activities.
The effort to develop an Outdoor Classroom was a collaboration between the Frances Jacobson Early Childhood Center's leadership, Temple Israel's leadership, the FJECC staff and many interested constituents. This project would never have been possible without the generosity of Rita and Adam J. Weiner and Family.  We gratefully thank Tobey Eugenio, Nature Explore independent consultant, for her ongoing assistance, as well as Jonathan Paquette, Suffolk Construction; Jerry Cataldo Landscape & Masonry; and Brian Grondin, Liberty Construction.
To have a vision of what was possible come to fruition is so rewarding! To quote Theodor Herzl, 
If you will it, it is no dream; and if you do not will it, a dream it is and a dream it will stay.
Theodor Herzl
Helen Cohen, Director

Address
477 Longwood Avenue
Boston, MA 02215
Classroom Website
Facebook