The Nature Explore Classroom at
Fremont Parents' Nursery School
For over 50 years, the preschool has welcomed and served families with preschool children ages 2 years to 5 years throughout the Tri-City communities of Alameda County.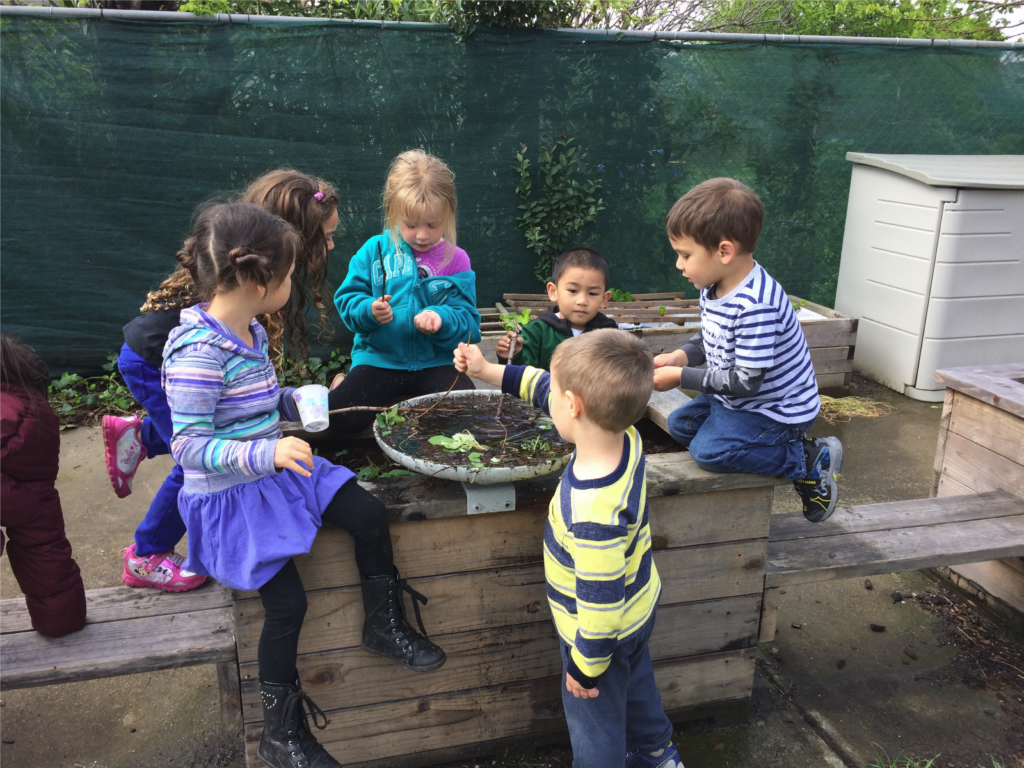 Through the shared partnership, a wonderful sense of community is created that nurtures all the families in the Co-op. Just as the children grow and flourish, so do the parents as they hone their parenting skills and form longlasting friendships with the other parents.
The school is situated on a wide expanse of land surrounded by trees, green grass and flowers. The children thus have the ability to experience the change of the seasons, frolic in the leaves, pick flowers and twigs and incorporate these materials into their thoughtful, investigative play scenarios, pretend cooking projects or art designs, along with other loose part materials, strengthening their visual-spatial, mathematical and abstract thinking skills too. Parents frequently comment that the children also seem to exhibit better cooperation and conflict resolution skills, and show greater problem-solving ability, and motivation to learn and try new skills.
Part of the overall re-design in the outdoor environment was made possible through a generous grant from the LIIF Foundation, which enabled the school to replace the existing ground surface material under the climbing structure and swings, to incorporate a large sand area with a water feature and to build the garden arbor and planter boxes. To align the outdoor equipment towards a more natural theme, plastic tables and chairs were eliminated as were many of the plastic toys. The furniture was replaced with beautiful weatherproof wooden tables, benches, crates and boxes.
The staff researched plants that were native to the school's area and installed a Sensory Garden for the children's visual and tactile enjoyment. They also established a garden area for butterflies and recently received a Native Butterfly Habitat Plaque.
Space is specifically incorporated for a children's garden so the children can determine what to plant and skillfully nurture and harvest what is grown. Their thoughtfully drawn pictures designate what has been planted in each garden box and they also designed wind chimes to hang on the garden arbor.
Recognizing the importance of providing children the much-needed opportunity to be immersed in the wonder and mystery of the Natural World and the many opportunities for learning that entails, parents enthusiastically contribute towards the stewardship of the environment through monthly maintenance work days and in sharing new ideas to further enhance this beautiful setting.

Address
4200 Alder Avenue
Fremont, CA  94537