My Friends
Christian Child Care & Preschool
Our Nature Explore Classroom is an important part of our learning curriculum. Almost our entire day is spent outside during the summer months. Summertime means the freedom to play with friends, make up games, find new challenges, master new skills, relax and breath-uninterrupted by an adult-led schedule.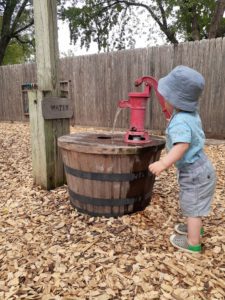 The children are fascinated when finding and holding insects, worms, frogs, and toads. They marvel at the feel and movement of each. The birds, squirrels, rabbits, butterflies, and bees also capture their attention. As the seasons change and preschool begins each September, we value outside time and activities. Outside provides learning as an extension of our indoor classroom seamlessly. The weather is seldom a deterrent to going out-even in Minnesota! Learning in our NEC is often the children's favorite part of the day!