Geist Christian Church Weekday Ministries Preschool & Kindergarten
Our teachers creatively utilize our outdoor classroom spaces. The children enjoy taking walks along the storybook trail which is changed out monthly.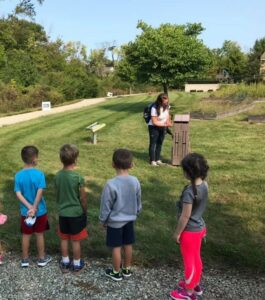 In Art, the children studied artist, Andy Goldsworthy. He uses items found in nature to create works of art. In small groups, the classes created art with items they collected in the outdoor classroom such as sticks, rocks, leaves, etc. Each piece of artwork was documented by pictures. Art has also taken the children on a shape hunt through the prairie, looking for 8 different shapes and counting how many sides each shape has. They carried a clip board and drew 4 different shapes of what was found.
In Learning Safari, classes have gone on letter hunts and identified beginning sounds of items found outdoors. In Music, children explore rhythm and beat when visiting the outdoor instruments but also enjoy taking smaller instruments outside as well. They've gone on pumpkin hunts and enjoy singing and listening to their teacher as she plays her ukulele. Gym class takes advantage of the outdoor spaces for fun large group games and motor activities.