The Nature Explore Classroom at
George's Jungle Child Care/Preschool
This began when I started to notice that the kids seemed limited in using their imaginations while playing outside. They did the same things day after day with the same toys. I researched and found information on Nature Explore, attended a workshop 8.5 hours from my home, and took the jump!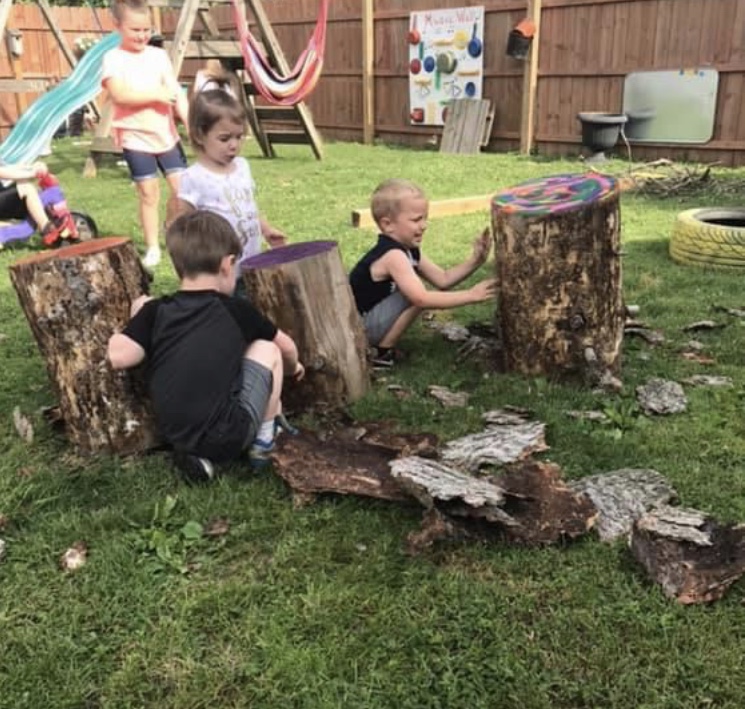 We removed all the plastic toys, brought in stumps, ladders, tires, dirt, rocks, sand. We built a mud kitchen, a car wash, a construction zone, a compost center, a vegetable and sensory garden. We brought art outside with mirrors on the side of the garage, fence, you name it we painted it. I started noticing excitement and the wheels turning as they explored and experimented, every day was a new adventure. Before I knew it they had incorporated science, reading, math, writing, drama in every area we had developed. We had opened a whole new world up!
We also began to notice something else, they were getting along better, social skills were maturing and they were working together to overcome obstacles, they were planning how to build things together also, taking turns and getting excited over finished projects. At one time we were hearing "I want to go in, it's too hot outside" but now it's "we're fine we can stay out all day". The change in our learning environment is amazing. Before there were limits as to what they were doing, but now each day is a new adventure.
Sometimes by just adding one thing, it can transform the whole outdoor area into a completely unique adventure. Tree stumps become mountains, our boat area is for fishing and going fast on skis and getting away from sharks. The Mud Kitchen is a bakery, grandma's house, drive through thirst quencher. In our construction area they can build, move rocks, dig in the sand, make tunnels, haul and move. Every time their little hands put something together in any area, we are creating Art! They have taken the time to smell the flowers, to watch the birds, explore the bugs and butterflies, all while gaining a new respect for the nature around them. I am excited to add new things to this environment each year.

Address
Marion, IN  46953