Gig Harbor Academy
"To plant a garden is to believe in tomorrow."- Audrey Hepburn
In the summer of 2020, mid-COVID, a handful of students and teachers were present on the Gig Harbor Campus, attempting to navigate the health and safety procedures necessitated by the pandemic. After months of complete lockdown, Washington State allowed small, masked groups to come together again in what can only be described as a pandemic era experiment to keep the virus at bay while allowing young children to grow and give parents an opportunity to work.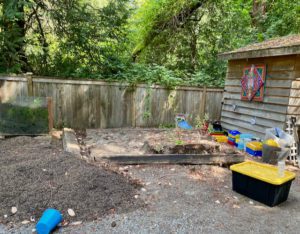 The campus was seemingly taken over by wildlife in our absence. Birds had nested in abandoned boots on the porch and in the walking-cups hanging off the building. A squirrel family found its way into the shed to escape the springtime rain. Raccoons ran freely in the playground. We are fortunate to share the area with wildlife during normal school operations, but the animals frolicked in uninterrupted freedom in our absence.
Gently, the children and teachers reasserted human presence, privileged to observe the natural world and inspired by its resilience. Teacher Auburn and her intrepid group of school-agers tackled the clean-up and beautification of the preschool garden area, a project worthy of a professional landscaping team. They broke down the neglected area, digging out ancient railroad ties whose creosote had long been rejected by eco-aware individuals for decades. The area was leveled by children wielding shovels and rakes. New beds were raised using repurposed beams. Nutrient-rich soil was delivered and placed.
Repurposed food cans received a coat of fun-color paint and drainage holes drilled. Fallen branches created archways. A tractor tire rolled across the campus to form a fairy garden within a garden. "Boot Birds" were relocated. A dad brought newly carved log seating. Tools and bug-catchers added to shelves on the fence. Herbs and flowers planted. After many weeks of planning and labor, a garden space emerged that both children and animal friends could enjoy! More importantly, pandemic weary people worked together in concert, breathing fresh air, using their hands to dig deeply into the earth as inner strength and spirit to inspire hope and healing.
"All good things are wild and free." Henry David Thoreau