Gig Harbor Academy
Child-Initiated Play at Gig Harbor Academy
A young girl runs up with a bowl containing thick, brown, textured, watery contents, and carefully placed greens distributed on top. "I made soup! Do you want any?" she asks as she offers me the bowl and a stick and runs back to her little group of workers hovering over pans on a stump. Other children are scurrying between the rain barrel spout, trickling water, and their respective friends and projects, yelling out plans, intentions, warnings and orders.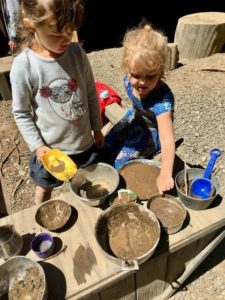 The Gig Harbor Academy "Messy Room" is a source of information and inspiration, blending natural and people-made objects into a mixed-material environment. Children discover, invent, communicate, coordinate, explore and socially navigate together in outdoor spaces, constructing and scaffolding knowledge in cooperative imagined scenarios. Teachers are able to observe behaviors and take anecdotal notes to promote emergent learning in child interest areas for later teacher-directed activities. Observations in the Messy Room can easily connect to lesson plans in the classroom on topics such as viscosity, water pressure, measuring, or conflict resolution.
Teacher – Directed Lessons in Nature
Our multi-age group uses outdoor loose objects, to enhance our numeracy skills. The photos to the right display early learning lessons in cardinality, correspondence and symbol identification. This particular skill building was the focus of the class's ongoing project: Animals and Nature in the Pacific Northwest.
While studying numeracy, we also looked at animal habitats and life cycles as part of our overall theme. One week, we focused on the beaver, what they eat, where they live and how they build. The children collected mud, leaves and sticks of various sizes, layering material and testing the strength of the structure against different water pressure and depth. We were dirty and happy! After our outdoor experiential activity on beavers, we found miniature loose materials to create dioramas of our habitat.
Studies across the globe abound with research relating to the benefits of learning in natural environments, including increased engagement, lower stress levels, complex interactional dynamics, and attitude of environmental stewardship.
By providing a child-initiated and inquiry-based setting, the outdoor classroom gives children an opportunity to make choices, solve problems and interact with others in a way that increases their own knowledge of the world around them, incorporating academic concepts such as phonemic awareness, mathematical reasoning, scientific discovery and creative expression needed for future school achievement.