The Nature Explore Classroom at
Under the Gingko Tree
The landscaping looks natural and visually organized which helps children to understand where their play areas begin and end.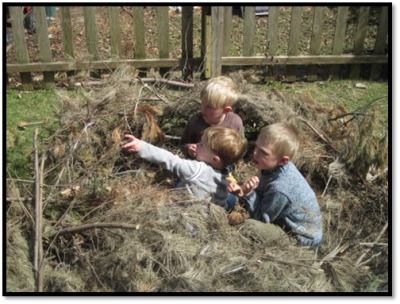 Diann Gano owner and director of Under the Ginkgo Tree started her journey of developing her Nature Explore Classroom by happily removing all the plastic and licensed play materials from her outdoor area. As she re-created her backyard into an outdoor classroom, the permanent swing set was the only piece of equipment that remained unscathed.
The layout was designed by observing where the rough and tumble areas were and where children went to read or do quiet, calm activities. Native perennials now border areas with color and aroma. While each area is separate, they flow together beautifully, which Diann believes benefits the play of the students as they organize their adventures and stimulate their senses.
The majority of the day is spent outdoors with children under five years of age. Obstacles were removed to keep areas versatile enough that one area could grow or shrink on demand, allowing interests to lead the children's activities.
Families and alumni have donated many items. One family donated over 15 Hosta plants with three different varieties. Flowers are deadheaded and the seeds collected for next year's planting or to be shared with families, friends and visitors. Children and families stay involved by splitting and sharing perennials, bringing in new bird feeders or donating birdseed. Birds and butterflies, along with small animals visit the classroom regularly.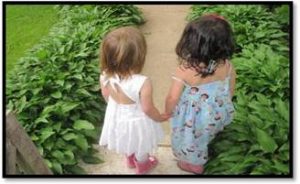 Diann Gano stated, "One of the benefits of returning to outdoor natural classrooms is the little cost involved. In these tough economic times, outdoor classrooms are so cost-effective. Because the materials are natural they tend to be low maintenance, low cost, and quite often free!"
A sense of ownership was established by sharing with the children and their families in the development and transformation of the classroom area. A yearly alumni picnic includes families from the past to come and share and play with current families. Families are now quick to send research articles and websites that share passion for outdoor learning and theories.

Address
3922 8th Ave
Rock Island, IL 61201
Classroom website
Facebook