The Nature Explore Classroom at
Grace School
Health, safety and overall beauty were top priorities of the Outdoor Learning Center's design concept.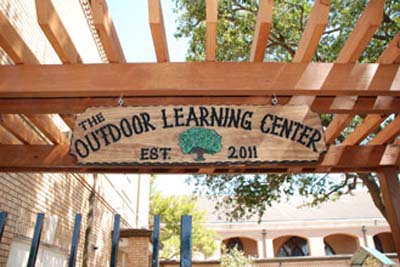 The Primary School community wanted the learning center to be a relaxing, beautiful space where children develop a deeper appreciation for the beauty of the natural world and strengthen their skills in classification and close observation.
The design is anchored with two large existing oak trees and nestled within a lovely 13-acre campus between three buildings. Landscaping consists of native plants and wood from the Gulf Coast Region of Texas. Staff, children and families toured various outdoor learning centers around the state in order to discover new ideas.
Program and teaching staff collaborated on choices regarding play equipment, manipulative materials, and outdoor classroom design. A large scale drawing of the design was placed in the entrance of the school in order for parents and students to contribute their ideas to the project and allowed for many donated items.
Family awareness has been achieved through letters from the Head of Primary School, conversations with teachers regarding the benefits to children, and through the school website and church publications. In the Primary School, families are each provided a home membership which includes activities from the Nature Explore Club and allows them to have the opportunity to explore the Outdoor Learning Center on the weekend or before and after school hours.
Maps are available in the family information zone which shows the delineation of space, ideas for learning activities, and the benefits each area provides to children.


Address
10219 Ella Lee Lane
Houston, TX
Classroom website
Facebook