Graham Creek Nature Preserve
This year has been an amazing year for the Outdoor Classroom. We have added an Ospray nest for children to play on that includes a slide, a fireman's pole, and a rock wall. It has been hit!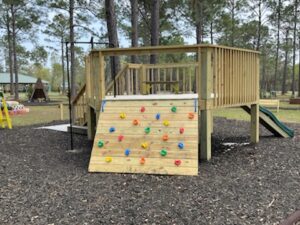 We have also added the spiderweb which has been one of our most used assets. We have also added new fruit trees and are growing exceptional herbs. When families come to our classroom they are experiencing nature at its best. Fresh air, fun activities and meeting new friends is exactly why we maintain this incredible space for the community. When you come to the classroom be prepared to use all five senses! We have a music area for your ears, a garden for your taste buds, the beauty of all the colors of nature and toys for your eyes, sand and messy blocks to build with your hands. This is an amazing place that just keeps getting better every day.