Grand Forks Montessori Academy
What makes our Nature Explore Classroom special is the fact that we were the very first certified Nature Explore Classroom in the state of ND. Five years later, our biggest maintenance is the constant weeding in the three months of ND summer. The children really love helping as it gives them the opportunity to employ real-life tools in real ways — just as Montessori intended.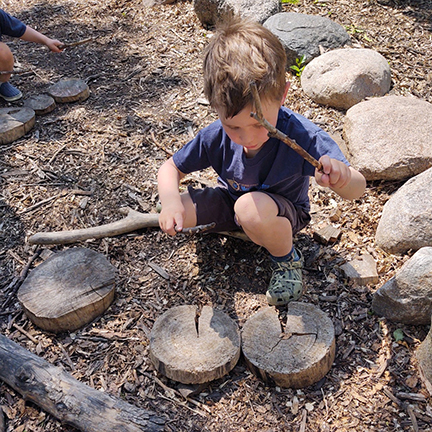 They love donning the child-sized garden gloves and using the two pull-along yard carts, the yard wagons and the new child-sized metal wheelbarrow. As they first learn the tools are there for their use, they approach inquisitively. They check out the wheels, they pull it along, but they soon tire of it—until they are led to the idea that they can be helpful and use it with real purpose. The children are invited to fill it with weeds from our wild little forest. In the beginning of summer the weeds are tall but not deeply rooted. Some are as tall as the children! They are challenged with pulling just right to see how much of the root they can get.
The children also love employing the wheeled tools to move mulch from the pile to replenish bare areas or to thicken the depth under the climbing trees. Our Nature Explore Classroom is an essential learning environment helping to develop imagination, fine and gross motor skills, an appreciation for the outdoors, and a sense of well-being and accomplishment.