The Nature Explore Classroom at
Gretchen's House Mt. Vernon
Several years ago Gretchen Preston, the owner of Gretchen's House Child Care Centers, attended the Nature Explore Leadership Institute in Nebraska. This conference inspired her to design all new outdoor classrooms to meet the Nature Explore standards and to redesign existing spaces.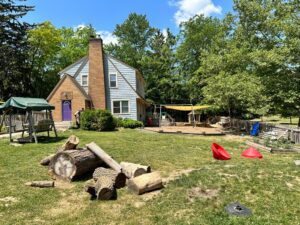 Flash forward to 2019 when Gretchen encouraged three of our current administrators to return to the institute. We returned to Ann Arbor with a renewed sense of import for bringing all of our outdoor classrooms consistently in line with the Nature Explore guiding principles. To ensure that staff had the resources they needed to meet the outdoor classroom criteria at their individual centers, we have been meeting with representatives from each of our eight centers on the first Friday of the month since June of 2021.
As we continued our work on our physical spaces together, we were also more intentional in sharing this information with staff and families. During the summer of 2021 we had all staff trained by Nature Explore. All staff either attended, "Learning Outdoors with Infants and Toddlers" or "Using Your Outdoor Classroom." We have also posted to our social media about outdoor learning opportunities for families and have shared activities from the Family Resources tab with our community once monthly for almost a year.
This past summer, we took 10 staff to the learning institute. The staff returned with many ideas and with a real sense of the difference that being outdoors makes both to adults and to children. Their time at the institute inspired them to plan and carry out a 4 hour staff training – for all 150 Gretchen's House staff- based on their time at the institute.
Mt. Vernon has a free library that one of our parents and children built and installed. They designed the library to mimic our center and Gretchen's House logo. Families and children in the neighborhood use the library to donate and take out books to read. Our classrooms utilize the library to pick read aloud books.
We go on neighborhood walks to collect pinecones, sticks, bark, and leaves to store in our messy materials area. The children help prepare and plant vegetables and herbs in our gardens. We have a parent who owns a local hardware store and brought us seeds, plants, and soil. The children dig holes, plant, pull weeds, and eat everything we grow. The children use watering cans to water our gardens.
With our classroom being visible from the street, and having cared for families in our neighborhood, we receive donated car tires, logs, pots, and pans. During clean-up, the materials are placed in the wheeled-toy, building, messy materials, and house areas, but we encourage the children to move materials to other areas. By providing labeled areas for the children to use materials from, we find their play to became more intentional. They are aware of what materials they need to carry out play, where to locate them, explore a variety of uses, and return them to the areas when finished. The change to more intentionally supporting play with the outdoor classroom has been incredibly positive. The children are thriving in our outdoor spaces!
Address
700 Mt. Vernon Ave,
Ann Arbor, MI 48103