The Nature Explore Classroom at
Grow With Me Home Childcare
The families at Grow with Me Home Childcare realize the importance of home and childcare connection. That is why every summer parents, grandparents and extended families get involved in a summer fundraising effort to support and sustain our outdoor classroom.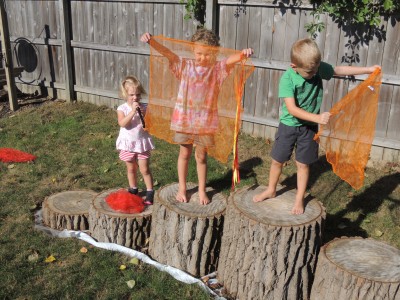 This year we sold homemade pizzas. Each morning for two months during June and July, the children prepared the dough. In the afternoon, the children hand-tossed dough, prepared the pizza and then cooked the pizzas in the oven. We then boxed the pizzas for families to take home for dinner. The children raised $450.00 and we purchased a greenhouse to extend the growing season in Northeast Ohio.
Not only was this a home/childcare connection but it served as a curriculum for the two months and we had great fun doing it. The children learned so much through this project. For example, they learned measurement, entrepreneurship, the science of yeast, sales and marketing, and customer service skills.
Next year we have plans to run another pizzeria. With the money, we earn we want to add a bird viewing center with Adirondack chairs, binoculars, books on birds and several bird feeders.
I love the outdoor classroom. I have seen so much positive response and growth from the children as they spend hours after hours each day being connected to nature and the wonder it brings.

Address
4621 Viewcrest Ct.
Lorain, Ohio 44053
Classroom website