Handke Center
Early Childhood Education
In our third year of being a certified Nature Classroom we have added even more to our ECFE Nature Explore Center at the Handke Family Center.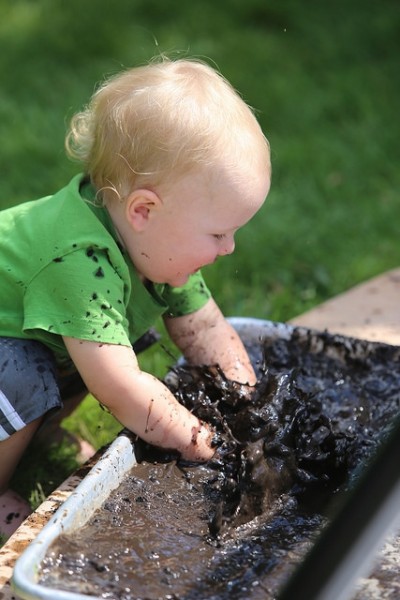 A Little Free Library was made and donated to us by our "Reading Buddies" from a local middle school that is now filled with lots of fun literature for the students and neighborhood kids to read and even take home. It is located near our tipi, which provides a great place to read in the sun. This year the American Indian Education Program donated a large metal buffalo statue, "Tatanka", that sits in the flowerbed nearby.
We decided to move our Mud Kitchen out of the shade to the north end of our classroom near the water hose. The children really enjoyed getting messy and making mud pies there. We also attempted a small community garden this year that the Nature Explore preschool class planted and the Edventure Club kids tended to and harvested for the rest of the summer.
We had a local carpenter add shelves in our greenhouse enabling us to organize and use it effectively for the first time this past winter. The children really enjoyed starting seeds in there and taking them home at the end of the school year.
We are always brainstorming on new ideas for events to get families out using our NEC to it's fullest potential and this year we continued our second year of celebrating Earth Day where our preschoolers and the public were welcome to come make earth sun catchers, bird feeders, play a recycling game, plant seeds and make a healthy snack.
New this year-we hosted International Mud Day! On June 29th, 100+ people from our program and our neighborhood came and played tug-of -war in the mud, made mud pies, drove toy cars through mud, made mud paintings and sculptures and rinsed off in our 'kid wash' and our slip and slide. The families absolutely loved this and we can't wait to host it again next year.