Handke Family Center
Another great year for the ECFE Nature Explore Center at the Handke Family Center in Elk River!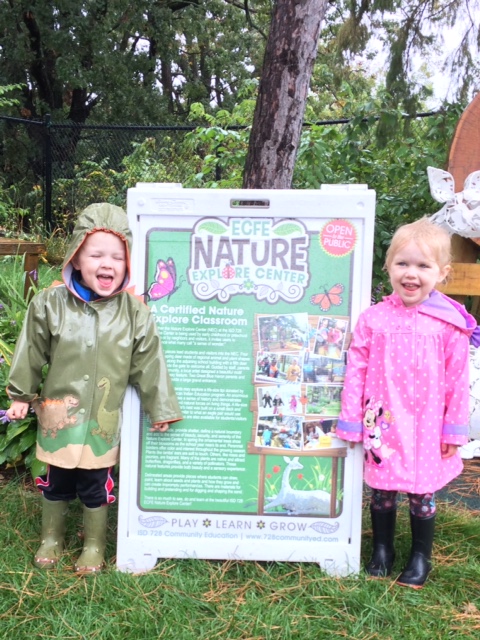 This was our year of maintenance! After five years for most of our features being installed, the rough wear and tear began to show. We replaced our stage in our Music and Movement area that was beginning to rot; stained all our wood surfaces/furniture; reformatted our Eagle's Nest Book that couldn't take the rough page turning of 3-5 year olds into an easy-to-read, one-page sign that hangs on the fence now.
The kids have gotten the knack for this outdoor play space however. They really enjoyed growing and harvesting grapes from our abundant grapevine, planting and caring for tomatoes, peppers, different types of lettuce and herbs. They know how to get creative in the messy materials and use the tree fort fabric. They love making mud pies after it rains and looking for worms! They have gotten good at taking out and putting away all the blocks in our building area from the wonderful shed we got last year.
Now that the leaves are falling, they know where to find our rakes to rake leaves into piles great for jumping in. Soon the snow will fall and we'll switch over to our snowshoes and shovels for them to play with. Our families here are really catching on that no matter the season, nor the weather (as long as your dressed for it!), the kids seem to be able to make every day fun on the Nature Explore Center!