Heritage School
This summer we were able to spend several thousand dollars in plantings for the Discovery Garden.  The variety of plants were chosen so that the garden would have continual blooms from spring to fall. Sixteen varieties of hostas, azaleas, boxwoods and rodas were planted.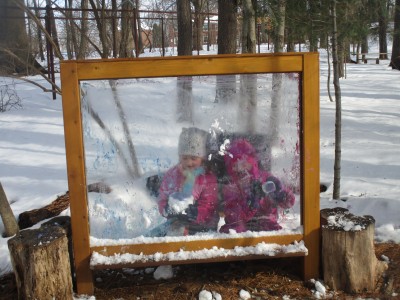 New in our garden:
Two raised 16 x 16 garden beds filled with topsoil for students to plant.
Hopalong Trail designed by our Outdoor Education teacher where the students are able to go on a trail from tree stump to tree stump.
15 new garden signs labeling the different areas of the Discovery  Garden. A new large Bird Aviary building to add to our bird curriculum (to be delivered in December).
New Water Table and Cascades Exploration (We use this with the  outlast ramps and blocks to explore and discover the elements of water).
New Art Panel (We are able to use this piece throughout the seasons. The students love to see each other through the panel and to create using natural materials).
Harvest Days…Heritage School's annual event to celebrate outdoor education for three days in the garden in October. This is an all-school event involving many parent volunteers.
The stations include:
Outdoor kitchen activities
Making apple sauce
Grinding corn meal
Vegetable sorting and printing
Pumpkin pie making
Apple graphing
Johnny Appleseed Puppet Show
Pumpkin planting and harvesting study
Hay ride through the garden
Paper making