Highland Plaza United Methodist Preschool
With the ongoing Pandemic, our school year began with children spending most of their day outside. Our outdoor classrooms provided the perfect environments for conducting school! Our children were outside about 75% of the day in all weather conditions.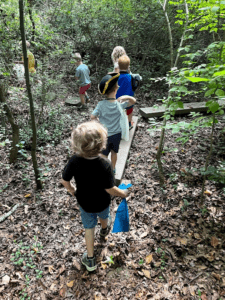 The shade sails gave us relief on the hot days as we spend most of our days outside exploring our environment. We are a Reggio-inspired program and many of the inquiry-based explorations were nature-based due to all the extra time we spent outside.
By being outside first thing in the morning, we learned some of the children liked to run back and forth in the front yard area before they were ready to focus on learning provocations. We feel blessed to have a program where children can run when they feel they need to do so. This early outside time was beneficial for children to be able to focus better and stay on task. Children and teachers adapted to the free flow between inside the classroom and outside.
Our children spent a lot more time on the hiking trails this year. They had lots of fun exploring and bringing back nature items from the trails. Children often brought rocks, sticks and interesting leaves and insects back to the classroom to examine and discuss. We revamped our 'hiking buckets' this year and have a variety of resources to enrich trail and nature exploration.
This spring, we returned to having parents and families volunteering at the school. We had our end of year picnic on the playscape with children and their whole families. It was a huge gathering. The children and their families enjoyed a meal with other families and explored the trails together. Siblings were excited to get to play in the outdoor spaces they had heard so much about.