Holy Family Catholic Academy
Holy Family Catholic Academy ("HFCA") is located on 20 acres in Inverness, Illinois, and serves more than 500 students enrolled in preschool through Grade 8. HFCA is the only authorized International Baccalaureate World School school ("IB") in suburban Chicago and is committed to developing global thinkers, leaders grounded
in faith.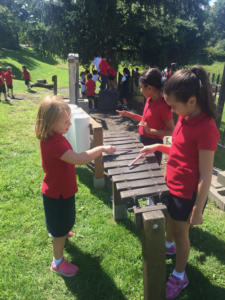 Our Nature Explore Outdoor Classroom is aligned with our goals of developing students' natural curiosity, promoting an independent spirit to explore new roles and ideas, and emphasizing the importance of intellectual, physical, and emotional balance needed to achieve personal well-being. It truly is a unique space to play and
learn.
Students and teachers have always valued HFCA's outdoor space, but a keener appreciation became apparent during the pandemic. Classes were easily transitioned to our outdoor classroom giving students and teachers a refreshing and safe space to learn.
Our students are the biggest advocates of our Outdoor Classroom. Not only do they enjoy the space, but they provide countless hours of service, including planting gardens, filling our bird feeding stations, and spreading mulch. Their excitement spreads to their parents who continue to donate time and resources to help fund our
project.