Home Sweet Home Child Care

At Home Sweet Home Child Care we are always re-evaluating our space to see how we can enhance the outdoor experiences for our little explorers. We continued to maintain our Nature Explore Classroom by adding new materials and ensuring the safety of our children.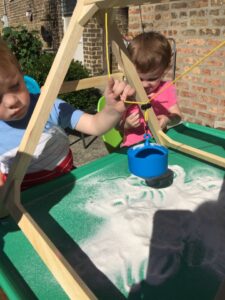 Our program has change with strict safety protocols in place. This year the majority of our effort was to follow the new safety restrictions and just lay back to enjoy all the things our outdoor classroom has to offer. Our little explorers have been engaged with our annual butterfly project, collecting leaves and spending a lot time in the sand area.
New materials are in several areas:
Music area – we purchased a new steel drum and new rainbow scarves for creative movement.
Messy area – We replenished the wood chips
Sand area – We purchased a new sand pendulous. Our children love making designs with sand.
Storage area – Our new outdoor cabinet has plenty of room with three shelves and doors.