Hope Center, Inc.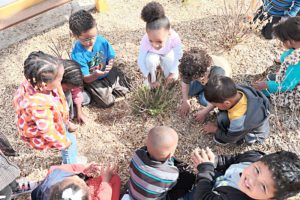 Some of the moments/activities shared by our Early Childhood Education staff in regards to our outdoor
classroom for the 2017-2018 fiscal year are:
1. We use the classroom as a place to describe and study habitats, which include plants, trees, soil, and insects
2. We are using the xylophone instrument and stage areas for creative dancing and creating special songs
3. Underneath the shaded tree area, children have used this area to mimic and share their family role models
4. In the grassy area, the children practice throwing and catching with the use of frisbees and footballs to develop
their fine motor skills
5. The Spring process helps incorporate the budding of plants within the outdoor classroom until they are
grown into full-sized plants (season-to-season)
6. Other uses for the grassy area incorporate running, hopping and racing which help develop the large gross
motor skills
7. This past year, honey bees were observed pollinating flowers, so the process of pollination was taught and fully
explained. If we did not have this garden area we would not be able to observe those special moments of nature
8. We use a pretend habitat for certain animals to explore and learn more about them
9 We show and tell on the stage while other students sit on the grassy hill area to listen. This process helps build
confidence and develops speaking skills for the children.
10. We walk around the messy area in order to develop children's balancing skills
11. Our children use field guides to help them identify birds and insects they see within the outdoor classroom
setting
12. Teaching children environmental studies so they can grasp the concept of cleaning up their environment and to not pollute.