Hope Center, Inc.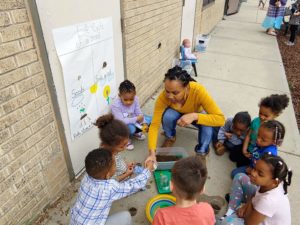 Some of the moments/activities shared by our early Childhood Education staff in regards to our outdoor classroom for the 2020-2021 fiscal year are:
1. We will celebrate spring with a magnificent homage to pastel colors in nature as well as clothing, hats and purses. We will include the designers who offer changes to a spring wardrobe each year. Science will encompass thoughts regarding those hibernated animals who wake up in the spring. We will celebrate BUGS! Emphasis on bugs/insects and how they differ will be explored. This unit will be culminated by allowing the students to create an edible bug and eat it.
2. We will be talking about springtime and what kind of animals return. That is birds, flowers and insects. Where do they live? Can you touch them? What bugs should you stay away from?
3. Children will have the opportunity to experience the growth of a plant's life.
4. We will be enjoying the blossoming flowers and green leaves on the trees. The bugs will start coming out. The children enjoy seeing all the changes of the season.
5. We will be studying the life cycles of butterflies and plants.
6. Springtime in the Rockies is always challenging, interesting and full of learning and discovery. HOPE Center is fortunate to have a Nature Explore Classroom as part of our campus.
7. As we begin to spend more time outdoors, recognizing the need to explore our HOPE Center outdoor classroom. We will coordinate activities on seeds and planting to let children observe plant growth.