The Nature Explore Classroom at
Hopwood Child Care
At Hopwood Child Care we understand that parents are the most important people in a child's world and we make every effort to support families.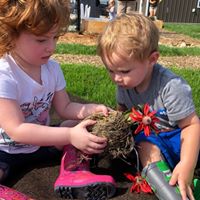 We recognize how difficult it can be for working parents to balance all of their commitments and responsibilities in their lives. For this reason, we strive to offer a program that enriches a child's development while putting parents' minds at ease. We seek to ensure a positive social atmosphere that allows for a successful learning environment.
We are heavily influenced by the Reggio Emilia philosophy of learning, which calls for a child-centered evolving curriculum that is largely executed through Project Based Learning. We do this while following PA early learning standards. We concentrate on student-centered activities that promote self­-directed and experiential learning in relationship-driven environments. Activities and interest areas such as art, math, and science, are arranged throughout our classrooms. Each area or "invitation" is designed by our teachers with specific materials to promote active exploration, self-expression and collaboration. The Reggio Emilia philosophy believes in using the classroom itself as a teacher. Our constantly changing indoor and outdoor environment allows children to engage in thought-provoking, challenging play every day.
At Hopwood Child Care, we view all children as confident, responsible, creative, and curious. The Reggio Emilia Approach, founded in a small city in Northern Italy inspires our outlook on children. The idea behind Reggio Emilia is the philosophy of believing in the rights and opinions of each child. A child is a natural researcher who has a desire for knowledge. We, at Hopwood Child Care, support that desire to learn and explore by offering teachers that listen, observe, and promote group work. Each child is different and has a different way of thinking. but we can still co-exist peacefully by respecting one another.
There are several opportunities for constructive activities that best support social and academic growth, such as the ability to be kind. At Hopwood Child Care, children learn to their full potential while learning to remember that it is important to be kind to each other. By respecting one another, we become a community. One way that we encourage this is by allowing drama and dramatic play experiences as an integral part of each day. Through these activities, we integrate other subject areas. Science, literacy, social studies, and more are further explored through these types of expressions.
The types of toys at our school are natural, hands-on, stimulating, and educational. There are rocks, gems, blocks, fabric, magnets, stacking items, sorting activities, crafts, and so much more. It is important that these types of items or "loose parts" are provided each day to allow children's curiosity and imagination to flourish. Discovery is most productive when there is an established eagerness to engage with exciting new items for hands-on learning. It is our goal to provide this encouraging atmosphere for every student.

Address
103 Hopwood Fairchance Road
Hopwood, PA  15401