Hurlburt Youth Center
At Hurlburt Field Youth Center, outside time is not just a break from learning, but an extension. The Nature Explore Classroom continues to service military youth ages 5-12 and the outdoor program is a focal point of the organization, which flows inside through programming and activities and is established as a mindset towards learning.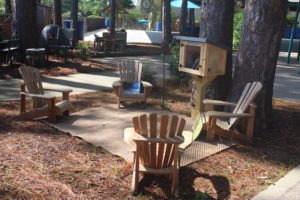 The program works to connect military youth with nature and engage senses at every possible interaction. The Nature Explore Classroom at Hurlburt Field Youth Center is unique in its dedication to military families and commitment towards nature learning for over a decade.
This year has seen a lot of enhancement for the different activities areas of the outdoor classroom. One of the new highlights of the areas is an outdoor STEM (science, technology, engineering, mathematics) lab. The lab can change daily based on artifacts and materials brought out. Some days the outdoor STEM lab teaches about snakes and reptiles while other days birding materials are used for youth to search for local birds by sight and sound. Youth are able to explore identification guides to look for different species they might encounter while in Nature Explore Classroom.
The building area now has a new magnet wall youth can engineer and change to problem solve mazes. Gears can be added to bring a new dynamic to the design. The messy materials area improved the mud kitchen area with new materials including a stovetop area and sink. Other materials brought in are dinosaur artifacts for youth to discover while digging in the sand area. Youth are able to become paleontologists while searching for new fossils. If youth want some quiet time they can use the outdoor library to relax or play games with a friend in the gathering area. The music and movement area added new multicultural instruments and youth were able to put on a fall fashion show for families using the stage area. There is something in the outdoor classroom for everyone to enjoy.
One of the favorite activities throughout the year is enjoying the garden area. There is a pollinator garden that features milkweed and youth are able to view the monarch butterfly life cycle. It is a joy to see a monarch butterfly emerge from its chrysalis to continue on its migration journey. Youth are able to identify eggs on the underside of leaves and watch caterpillars grow. It is always fun to find the hiding spots of the chrysalis and predict what day the butterfly will emerge.
It is always exciting to see what changes nature will bring and Hurlburt Field Youth Center is no different. We look forward to changing every year and see what enhancements to the area can be made to make for the best nature experience for our military youth and families.