The Nature Explore Classroom at
Inspiring Little Minds Learning Center
Growing up, we all experienced the wonderful feeling of being able to explore the outdoors. We took in the smells from our environment, we took in the scenery and we explored without consequence, without worry.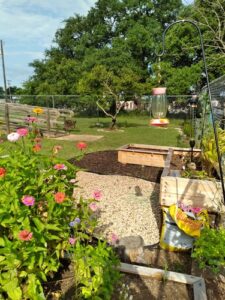 It was my humble beginnings that made me realize that I had experienced this wonderful feeling and it was a stamp in my memory. Who doesn't remember the smell of their favorite dish made by their granny, or playing in the backyard, making mud pies or running up and down paths with friends? I remembered all of this and it has always been a passion of mine to provide similar experiences for the children in my care.
As you look around, sidewalks are disappearing, parents can't afford houses with yards and it is becoming increasingly difficult for children to experience this feeling outside of our care. So, of course, when I saw the Great Tree in the back yard of my center, I knew that this would be a great place for the Nature Explore Outdoor Classroom, I knew that this was something that I needed to do, in order to provide an experience that the children in my care would never forget. I knew that this would be something that I wanted to do and would do.
Thanks to Texas Workforce, Kaplan, Ethan Stone Landscaping, and my staff and parents, my dream would be realized. I am truly grateful and ecstatic to have a slice of paradise right in my own backyard. My children love it!

Address
1200 Martin Luther King Jr. Blvd.
Killeen, Texas 76543