Islip Early Head Start
The Outdoor Classroom at Islip Early Head Start is the cornerstone of family engagement at our center.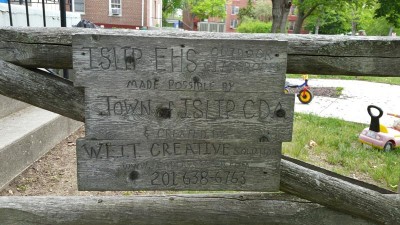 Our program has three classrooms that serve eight infants and sixteen toddlers. We also provide services to 20 expectant mothers and 28 home-based families. We also provide two monthly socializations for home-based families. During these socializations, the families come together to interact with each other, providing a social experience for the infants and toddlers. The families use the outdoor classroom to provide their children with an outdoor experience that they may not have otherwise. The outdoor classroom inspires the children to love nature and it also facilitates better social and physical development.
The families in our program are involved with the outdoor classrooms. The fathers work together to maintain the outdoor classroom for their children. They mow, trim branches and help plant flowers and vegetables. The mothers get together and solicit donations for the outdoor classroom.
This year, Home Depot donated the flowers and plants to beautify the grounds. The Center also has a big Spring Clean Up Day to kick off spring. The children bring their parents, siblings, grandparents, aunt and uncles to the event. The families come together, open the outdoor classroom and then have a beautiful picnic together. Parents have the opportunity to play with the musical instruments such as the akambira, rain sticks and drums. The art panels are filled with a variety of paints so that the families can experiment and create their own artistic expression.
Families bring shells, rocks, leaves, and other items found on Long Island to spark the children's imagination in the Nature Art tables. This year, the parents will be having a fundraiser to purchase a water and sand table. The outdoor classroom brings our families together, allowing them to interact with their children and create meaningful experiences.
Dawn Melchiona, Early Head Start Manager